Ryan Joseph Ramos
July 12, 2013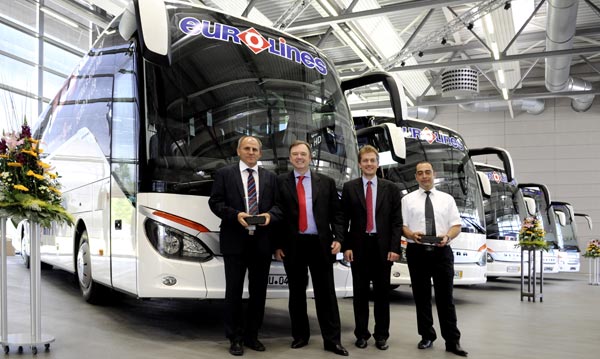 Deutsche Touring GmbH, a Frankfurt-based long-distance network operating across Europe, has just bolstered its fleet with the delivery of five new Setra coaches, three of which are from the ComfortClass 500 line.
The three S 516 HD units, which are of the two-axle variety, are the first ComfortClass 500 coaches to go into the company's international network. In addition, they are the first of the model line to be put into use within the Czech Republic.
Present at the handover of the units was Frank Zehle, Deutsche Touring GmbH General Manager. Czech operator Touring Bohemia General Manager Milan Tuhacek was also there to receive the three ComfortClass 500 units, while Touring Serbia General Manager Vladimir Krstic assisted in receiving the remaining two units, which were of the ComfortClass 400 series. The units that went to Touring Serbia were an S 416 GT-HD and an S 417 GT-HD.
Touring Bohemia and Touring Serbia are owned by Deutsche Touring, which has been providing international services sicne 1949. Currently, Deutsche Touring serves 700 destinations covering 32 countries, departing from 80 points within Germany.
The bus operator has been turning to Setra to provide top-of-the-line coaches since 1955. Interestingly, the old logo of Deutsche Touring was even made by Kässbohrer designers. Kässbohrer was the owner of Setra before Daimler took over.