Ryan Joseph Ramos
July 8, 2013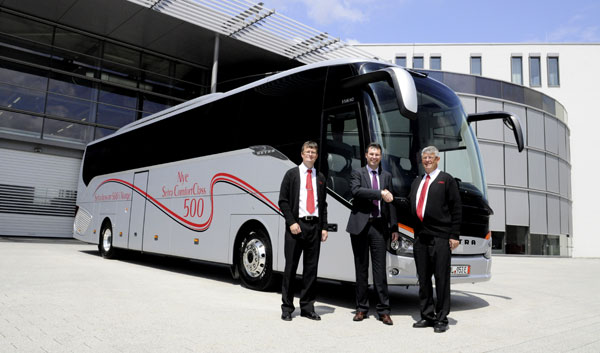 Gunnar Brustad, who owns Norwegian bus line Brustad Busstrafikk, went with his son to the Setra Customer Center without knowing that the new ComfortClass 500 unit waiting for him was very special. On top of being the first in the series headed for Norway, it is also the 500th Setra bus to be delivered to the country.
The double-milestone is a pleasant surprise. Since 1983, the bus company had already been turning to Setra for top-of-the-line coaches.
Brustad expressed delight at taking the current-gen ComfortClass to Norway. "After the successful Setra 400 model series, it is now important for us to be able to offer another superlative touring coach to our passengers travelling throughout Europe."
The unit Brustad is taking home is equipped with the exclusive Visibility package at Brustad's instruction. This package comes with bi-xenon headlamps on the main beams and dipped beams, as well as a headlamp cleaning system and ambient lighting that helps drivers out when on reverse.
Standard implements include 48 Setra Voyage-type seats, an AV system, and a galley with a coffee machine. These implements are designed to make the passengers as comfortable as possible, especially over long distances.
Safety is also highlighted on the ComfortClass 500 S 516 HD, with its various driver assistance systems, which include an advanced emergency braking system and adaptive cruise control.