Ryan Joseph Ramos
June 28, 2013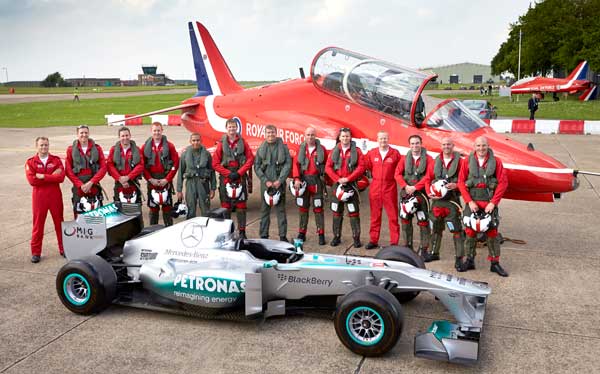 Who says you can't mix business with pleasure? Sometimes, though, F1 drivers have way better perks than most of us. Take Mercedes AMG Petronas F1 driver Lewis Hamilton, for instance. He just spent time with David Coulthard and the RAF Red Arrows last Friday, a side event leading up to this weekend's British GP.
Hamilton and Coulthard hopped onto a Hawk T1 jet, going through some loops and rolls during their 30-minute flight in a three-ship formation. They were subject to up to 4.5G's of force, although they do encounter similar forces during every F1 stint.
After that run on the RAF Aerobatic Team jets, Hamilton then took his MGP W02 for a quick drive along the RAF Scampton runway. At the same time, Red 10 and Coulthard were flying above the Mercedes F1 car.
The Red Arrows are in their 49th display season in 2013, and will be engaged in a wide range of appearances and events in order to showcase the RAF's professional excellence not only in the United Kingdom, but all over the globe.
According to the Mercedes media site, we might be treated to some footage of the action come July. We'll be sure to check www.youtube.com/MERCEDESAMGPETRONAS on Monday.
Meanwhile, expect our 2013 British Grand Prix preview in a bit!