Ryan Joseph Ramos
May 12, 2013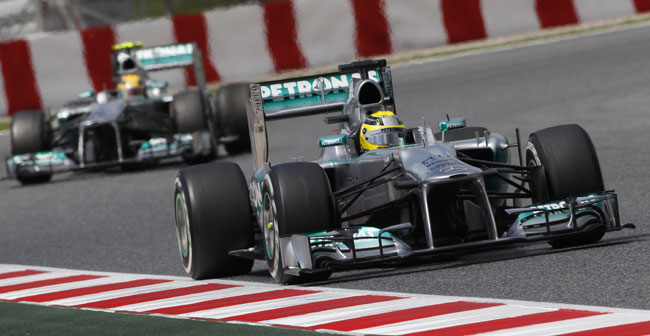 For the Mercedes AMG Petronas team, these strong qualifying performances coupled with disappointing results in the race proper should be very frustrating. That was the story at the 2013 Spanish Grand Prix, where the Silver Arrows drivers Nico Rosberg and Lewis Hamilton started the race from the front row. Pole-sitter Rosberg managed to hold on to his lead for several laps before relinquishing it to eventual race winner Fernando Alonso, and Hamilton was out-muscled right from the get go into P4.
By turn 1 of lap 13, Alonso finally makes his move on Rosberg and it was all downhill from there. Both drivers continued to struggle with their race pace. Rosberg ended up finishing in P6, holding off the challenge by Paul di Resta down the last four laps. It almost looked like a different team using a Mercedes engine would end up crossing the chequered flag before one of the Mercedes cars did.
Hamilton finished in P12.
Completing the podium with Alonso are Kimi Raikkonen at second and Felipe Massa at third. With the win, Alonso leapfrogs Hamilton for third place in the drivers' standings, while Ferrari vaults over Lotus for second in the constructors' title race.
We'll be back with quotes from the drivers and more analysis on the race, possibly to shed light into the disappointing race proper for the Mercedes-Benz team.