Ryan Joseph Ramos
April 12, 2013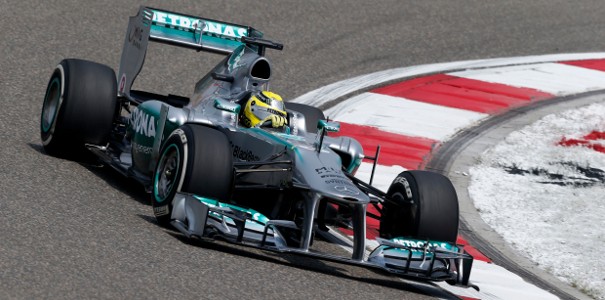 After the first two free practices at the 2013 Chinese Grand Prix, the Mercedes AMG Petronas F1 team seems to be in good shape. The duo of Nico Rosberg and Lewis Hamilton managed a 1-2 finish in the first practice, and had enough pace despite some tweaks and changes to the setup for the afternoon session, where they finished P4 and P7, respectively.
Rosberg said it was good to be back at the Shanghai International Circuit and that he was comfortable in his car. "We looked good on one lap, but there is some work still to do on the longer runs. Tyre degradation was particularly high on the option tyre out there today. So we need to analyse this and decide what is best to do in the race," added Rosberg, who took the win in last year's Chinese GP.
"I'm hoping that we can continue to improve as I spend more time in the car," said Hamilton, who was actually sick during the sessions. "The tyres are going to be challenging this weekend, particularly the option compound. Our pace looked good and although I had some traffic on my quick lap, there was enough to give me a good feeling. We'll find out in qualifying where we really are."
According to a team spokesman, Hamilton suffered from an allergic reaction. He was sent back to the hotel without being able to attend his media duties a day earlier. The Brit, who is in his first year with the team, is currently fourth in the drivers' standings with 25 points. He trails third-place Mark Webber by a point.
Rosberg also initially set the pace in the second practice, but wound up behind Felipe Massa, Kimi Raikkonen, and Fernando Alonso in lap time. The afternoon session was a mess, with rubber from the Pirelli soft-compound tires that prompted teams to just go for long runs instead of trying to get the fastest times.