Peter Parcon
February 21, 2013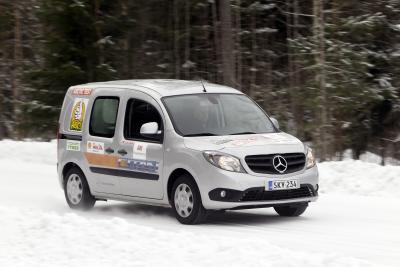 The Mercedes-Benz Citan, Vito, and Sprinter recently showed that they can endure even the most extreme conditions recently. The Citan and the Vito were tested an Arctic Van Test that was held in Finland while the Sprinter drove through the North America until Alaska.
The Arctic Van Test saw the Mercedes-Benz Citan outshining its rivals in its category. The Mercedes-Benz van combines comfort, handling and safety to achieve a remarkable driving performance. The vehicle was able to perform well even after temperatures dropped below 25 degrees Celsius.
The Mercedes-Benz Vito was also able to outperform other compact vans in the Arctic Van Test. The victories of the two vehicles confirm the claim of the company that its vehicles offer remarkable performance even when they go through extreme weather conditions.
On the other hand, the Mercedes-Benz Sprinter vans had to drive 5,300 kilometers from Edmonton, Canada all the way to Anchorage, Alaska. The test gave proof that the vans can endure rather extreme conditions, including temperatures that came near to under 50 degrees Celsius.
The vans were driven by independent test drivers, who commended the performance of the V6 CDI engine of the Mercedes-Benz Sprinter. The drivers also added that the vans offered first-class drivability while its noise levels were generally low. The cab of the vehicle also provided comfort to the drivers even though they drove under hostile weather conditions.