Giancarlo Perlas
February 9, 2013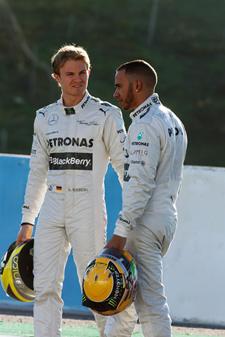 Despite a bad start in the Jerez racetrack, Mercedes-Benz team drivers Nico Rosberg and Lewis Hamilton remain optimistic.
After completing a remarkable feat for the day, 145 laps to be exact, reporters from various news sources had a chance to get the thoughts of the 2008 F1 world champion.
Hamilton stated that he is happy with where they are now, especially with the enhanced performance of the new Formula 1 car. He praised the effort of the technical crew of the team for the great job. The young driver also attributes the great performance of the 2013 Silver Arrow to the great relationship of all the people in the team and the cooperation of their people in the factory.
However, Hamilton admitted that the speed needs improvement. He said that one crucial factor affecting the car is its lack of downforce. That is something that they are asking the people at the manufacturing plant to improve at the moment.