Ryan Joseph Ramos
October 10, 2012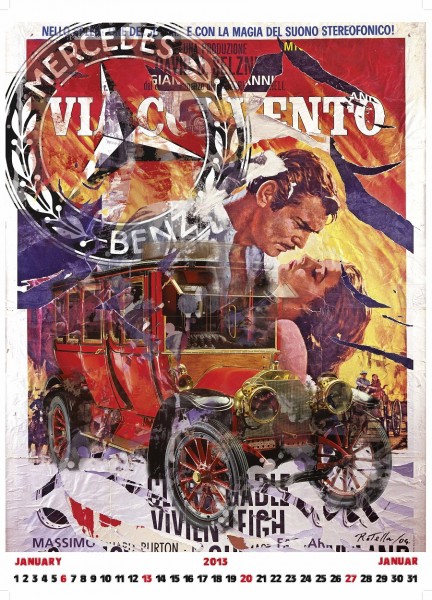 The Mercedes-Benz Classic Calendar 2013, which is available now, should be a great calendar choice for Silver Arrow enthusiasts and car/art lovers in general. It offers people some neat visuals that will surely add character to any room—Mimmo Rotella decollage-style poster art is mixed with images of S-Class models from the past.
Basically, you get 12 images (one per month, of course) of decollages and images of S-Class cars from 1904 onward. Each image was merged together by Monty Shadow, a Croatian-born artist. The calendar is intended to be a tribute to the luxury saloon models that have come before, while also ushering in a new era of S-Class design.
"With the Mercedes-Benz Classic Calendar, we are presenting twelve models from the long history of the S-Class in a new aesthetic setting," said Mercedes-Benz Classic Head Michael Bock. "The calendar motif for January features Emil Jellinek's luxurious long-distance saloon, the Mercedes Simplex 60 hp from 1904. It marks not only the start of the year, but also the origins of the S-Class itself."
Domenico Rotella, or Mimmo Rotella, was an Italian artist who became famous for using torn-up advertising posters. He used techniques such as psychogeography and decollage, which are apparent from the visual cues found in the images of the Classic Calendar, which is available now.