Ryan Joseph Ramos
October 8, 2012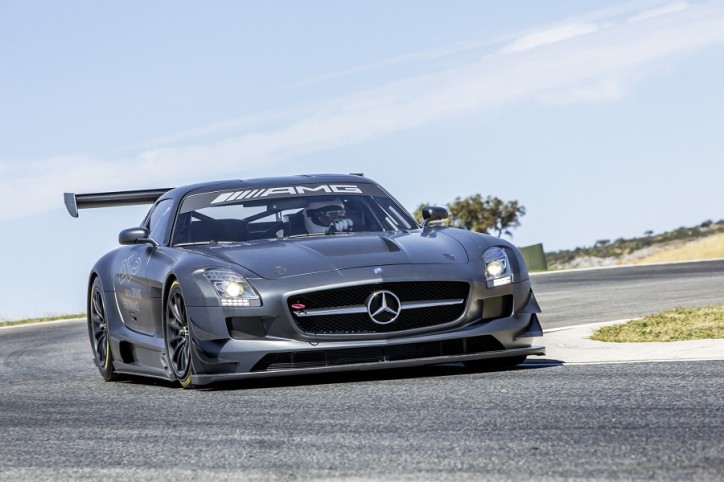 What's more special than an SLS AMG GT3? If you answered an exclusive, special anniversary edition model, you're right. That's what the SLS AMG GT3 "45th ANNIVERSARY" is all about—the vehicle will be hand-built and the production run will be limited to 5 units, no more and no less.
There's no doubt that collectors will be hot on the heels of this exclusive customer sport racing car, which runs on a naturally aspirated 6.3-liter V8 engine. It comes with several tweaks for both the exterior and the interior. The gullwing doors of the car come with a logo that says "45 Years of Driving Performance." The vehicle comes with a designo magno graphite matte finish, which was seen previously on the initial 45th anniversary exclusive model, the SL 65 AMG "45th ANNIVERSARY," which made its appearance at the New York Insternational Auto Show last April.
Designo magno graphite also makes its way to the light-alloy wheels of this SLS AMG GT3. In addition, carbon fiber reinforced plastic is found all over the vehicle, including components like the rear wings, mudguards, bonnet, and front splitter. CFRP allows the vehicle to remain light without sacrificing build quality and performance.
As for the interior, it's all about racing. There's a steel roll cage (also in designo magno graphite matte finish), a dashboard with a center console (containing the numbering badge for the exclusive model's sequence) that has a matte carbon fiber finish as well, six-point seatbelts, steering wheel spider, and a seat shell for the co-driver side. The car will also come with an indoor car cover that contains the aforementioned "45 Years of Driving Performance" mark.
AMG brand ambassador and DTM champion Bernd Schneider has a hands-on involvement in the production of the SLS AMG GT3 "45th ANNIVERSARY," further adding to the story of this highly exclusive model. He installs the V8 engine into the vehicle with the help of an AMG engine fitter.