Clarissa
April 27, 2012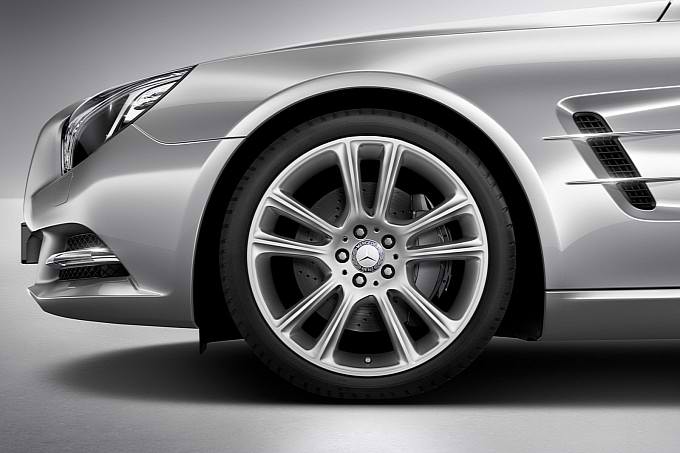 After the German market got hold of the latest SL-Class, Mercedes-Benz announced that the new car owners can now update the Bremen-built vehicle with their original accessories.
Because this car is 140kg lighter than its predecessor, it's no biggie if you want to make it heavier with these cool accesories that includes a multi-spoke set of alloy wheels, great-looking body kit, 11 wheel options and 16 different charging cradles and docks that can hold various smartphone brands.
Individual touch is what you car will have when you have these accessories. With many options to choose from, you can make sure that your car will look unique.
Other than those accessories, Mercedes-Benz includes the COMAND Online multimedia system that has a DVD changer and media interface system that can be used with various mobile device.
Read Daimler's official press statement after the jump.
Upgrade Your 2013 R231 SL Roadster with New Accessories
Stuttgart. Thanks to an extensive range of accessories, it is now possible to enhance the individual flair of the new Mercedes-Benz SL that little bit further. All products are manufactured to Mercedes-Benz's usual high quality standards.
From all-weather mats to ten-spoke alloy wheels, the Mercedes-Benz original accessories for the new SL offer a multitude of ways for owners to tailor the roadster even more closely to their own needs. The stars of the extensive initial range are eleven stylish alloy wheels – perfect for giving the SL that additional individual touch – and a total of 16 charging cradles and docks for various smartphones. Other upgrade options include the COMAND Online multimedia system, boasting a DVD changer, and the media interface, which can be integrated via cable with a host of mobile end devices.
The high quality is also apparent in the elegant door sill made from brushed stainless steel and featuring illuminated lettering, or the key ring, a replica of the SL symbol on the boot lid.
The SL can be made to look even more sporty thanks to genuine accessories from AMG. One option is the AMG bodystyling package, comprising front and rear aprons and side skirts, and a choice of three 19″ five-spoke wheels.