Clarissa
April 26, 2012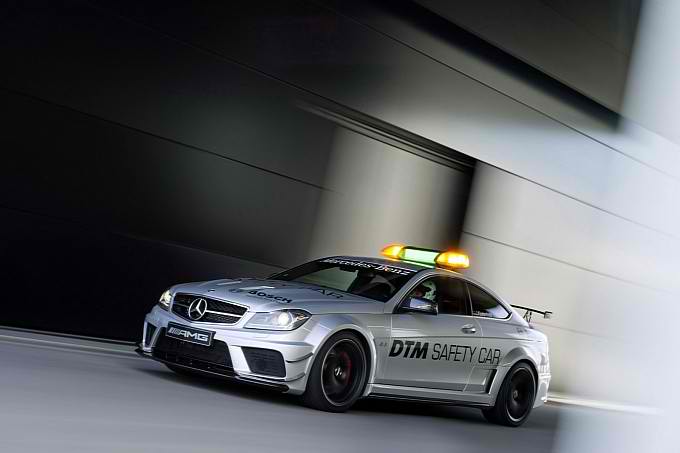 With the race starting on April 29, Mercedes-Benz has changed the DTM car to the 517HP producing coupe, making it the mightiest C-Class ever. But it is not only a power car, as mentioned, it is a safe car. With the changes on the DTM regulations made and decided by the German Motorsport Association, more safety features has been added to ensure compliance.
The C63 AMG Black Series Coupe was driven around the track for a long time to determine its conditions and its adaptability to extreme weather conditions and accidents. With the well-being of the driver, spectators and marshals in mind, there was no other way to do it. Another notable safety detail in the car are the LED lights: GREEN and ORANGE. Two green lights in the center is lighted while the race is taking place and permanent green light is a signal that the other DTM race cars can overtake it. Meanwhile, the orange lights flashing on the outer light bar means that other cars cannot overtake.
Under the hood, the AMG car 6.3 liter V8 engine that produces a maximum torque of 620 Newton meters and 517Hp. It accelerates from 0 to 100kph in 4.2 seconds, with top speed of 300 km/h. To make it more exciting and fun, the car has a silencer that produces a V8 sound. Moreover, the coupe is equipped with the AMG SPEED SHIFT MCT 7-speed sports transmission that has RECE START function, intermediate gas and four driving modes that helps in rapid gear changes.
Since the new policy allows wider tires, the Mercedes C63 AMG Coupe Black Series has Dunlop Sport Maxx Race tires measuring 255/35 R 19 in front, 285/30 R 19 at the back wrapped around a matte black painted AMG wheels.
Inside, the car is no different than its production counterpart, although some has been altered in order to meet the guidelines of the race. For example, four point belts are used, instead of the normal seat belts. A radio system and a TV monitor are also inside to help the driver during the race. The dash is also slightly different, with more buttons and flashing lights to help in the operation of the light beams and the LED flashing lights on top of the car.
Check out the Mercedes C63 AMG Coupe Black Series in the gallery below.