Muamer Hodzic
June 23, 2008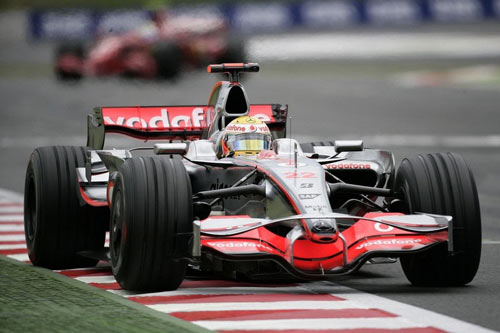 Heikki Kovalainen finished the French Grand Prix in Magny-Cours in fourth place. After 70 laps, he came home 28.9sec behind winner Felipe Massa despite starting 10th on the grid following a five-place grid penalty.
Team mate Lewis Hamilton ended up 10th; qualifying third, he was demoted to 13th due to the 10-place grid penalty he received at the Canadian Grand Prix. Lewis also received a drive-through penalty for missing the apex of Turn Seven following a move on Sebastian Vettel on the opening lap. After the eighth of 18 Grands Prix, Lewis is fourth in the drivers' ranking with 38 points, Massa leads with 48 points. Heikki is sixth overall with 20 points. In the Constructors' Championship, Vodafone McLaren Mercedes is third with 58 points; Ferrari leads with 91 points.
Race highlights after the jump.
The start: In qualifying, Lewis and Heikki were third and sixth fastest respectively. However, the penalty Lewis received in Montreal two weeks ago meant that he was relegated 10 positions on the grid to 13th. Heikki was promoted to fifth due to Lewis's grid penalty, but later received a five-place grid penalty because of an alleged obstruction of Mark Webber, relegating him to 10th. Heikki was ninth after the opening lap followed by Lewis in 10th place.
The race, lap 5: Lewis overtook Heikki and was ninth.
Lap 13: Lewis received a drive-through penalty for an alleged missing of the apex at turn seven on the first lap. He drove through the pits one lap later and was 13th. Heikki was ninth.
Lap 16: Heikki moved up to eighth following Fernando Alonso's (Renault) first pit stop.
Lap 19: Lewis overtook Fernando Alonso and took 12th position, then he came in for his first pit stop (8.9sec) and resumed in 19th place.
Lap 25: Heikki pitted from fourth place (9.4sec) and rejoined the race in 10th place.
Lap 28: Heikki was ninth and Lewis 16th.
Lap 30: Heikki improved to seventh place.
Lap 36: Lewis was now in 13th place.
Lap 42: Heikki overtook Mark Webber (Red Bull Renault) at the Adelaide hairpin and moved up to sixth place. He improved to fifth following Alonso's second pit stop one lap later.
Lap 47: Heikki was fourth after Robert Kubica's (BMW Sauber) second pit stop whilst Lewis outbraked Alonso – also at the hairpin – and was now 12th.
Lap 50: Jarno Trulli (Toyota) pitted and Heikki was third; Lewis moved up to eighth and was in a points position for the first time today.
Lap 52: Second pit stop of Heikki (6.5sec), he resumed in fourth place. Lewis came in immediately afterwards (7.0sec) and dropped to 12th place.
Lap 57: Rain began to fall. Lewis overtook Timo Glock (Toyota) and was now 10th.
Lap 59: Heikki reduced the gap behind Trulli to 0.7sec. Lewis was 0.8sec behind David Coulthard (Red Bull Renault).
Finish (lap 70): Heikki came home fourth and missed the podium by 0.6sec. Lewis ended up 10th.
Comments
Heikki Kovalainen
"Given yesterday's grid penalty, this was a very good result. It also shows that we had a great strategy to be able to come from 10th on the grid to fourth at the finish. During the first stint I lost a lot of time trying to get past slower cars; but, after that, fortunately, I was able to overtake, build a cushion and close the gap to the guys in front. The car felt fantastic throughout the whole race and the Bridgestone Potenza tyres worked really well. During the closing laps, I found myself behind Jarno and tried everything I could to overtake him, but I just couldn't quite make it. He defended third place very well, so well done to him for that."
Lewis Hamilton
"My drive-through penalty was an extremely close call: I felt I'd got past Vettel fairly and was ahead going into the corner. But I was on the outside and couldn't turn-in in case we both crashed, then I lost the back-end and drove over the kerb. But, after that, I got my head down and pushed hard until the end of the race. I've been out of the points for three races now – but there are still 10 to go. Kimi came from behind to win last year's championship, so there's no reason to be disheartened. I'm 10 points behind, but I'm determined to bounce back at Silverstone in front of my home crowd."
Ron Dennis
"A challenging weekend for us. Having said that, Heikki had a brilliant afternoon, driving superbly and fighting all the way to the chequered flag, and only narrowly missed the podium. Lewis's race was severely hampered by his drive-through penalty. Now, though, we must draw a line under this weekend and look ahead. We've got a competitive car and two excellent drivers, and as such we're in great shape. So now we need to focus on the Santander British Grand Prix, and on getting the best results we possibly can at Silverstone, where we feel confident we'll once again be able to challenge at the front."
Norbert Haug
"Our pace wasn't too bad. Without his drive-through penalty, third place would definitely have been possible for Lewis despite starting 13th. Heikki did a great job and moved from 10th to fourth. It's a shame that he didn't manage to pass Trulli at the end. However, for the spectators, he at least produced the fight of the race. We all now concentrate on the first of two consecutive 'home grands prix' in Silverstone. Lewis's gap to the top is 10 points and that is still not too big a gap."