Muamer Hodzic
June 19, 2007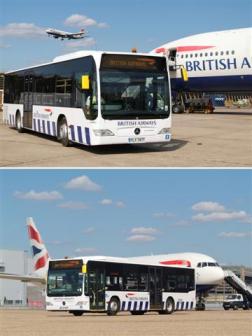 British Airways has taken delivery of 38 Mercedes-Benz Citaro buses. The vehicles are to be used to transport passengers at Terminal 5 at Heathrow, which is due to open in March 2008. The new Mercedes-Benz buses have been equipped in accordance with the specific requirements of British Airways. For example, the equipment specification includes automatic air-conditioning and three doors for passengers, one on the driver's side and two on the opposite side, thereby guaranteeing a speedy flow of passengers. To be able to offer the greatest possible comfort, the capacity of the new airport buses was reduced from origin­nally 100 passengers down to 45 while maintaining the vehicle length (at 12 metres).

A key factor behind British Airways' decision in favour of Mercedes-Benz buses was the modern environment-friendly vehicle technology, which features Blue-Tec 5. This technology already today complies with the Euro 5 exhaust emissions directive, which will not come into force in Europe until 2009. In comparison with the present emissions regulations, Euro 5 will require a further 43% reduction in emissions of nitrogen oxides. The current and future exhaust emissions levels are met by the Mercedes-Benz Citaro with Blue-Tec on the basis of SCR (Selective Catalytic Reduction) technology.
The Mercedes-Benz Citaro family of buses was launched on the market in 1998. With 17,500 units now sold, the Citaro is the most successful urban bus in this segment. The Citaro breaks all records: for the first time, over 3000 units were produced last year. Its highly advanced technology also makes it a vehicle with a secure future. In addition to Blue-Tec 4 and Blue-Tec 5 engines, the Citaro is also available in a version with gas-powered engine and EEV (Enhanced Environ­mentally friendly Vehicle) technology.
For four years now, 36 Mercedes-Benz Citaro buses powered by fuel cells have been undergoing trials with customers in Europe and overseas. The Mercedes-Benz Citaro with hybrid drive will be presented before the end of this year.