Muamer Hodzic
May 7, 2007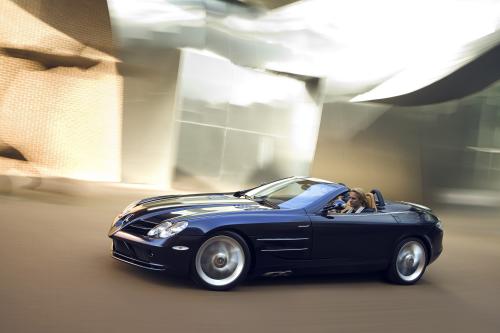 Some breaking news happend on Friday, which I was unfortuantely not able to post about. Mercedes officially released information on the new SLR convertible, that is very similar to the one we have seen a couple of weeks ago. Most of what I have writen then is true today, just that it has 9hp more than what I forcasted. To delight of many fans, the butterfly doors have stay, just as I have writen.
The maximum speed of the new high-performance sports car, which is powered by an AMG V8 compressor engine delivering 460 kW/626 hp, is 332 km/h, therefore at the same high level as the coupe. That is one important point because I initially was not in favor of a convertible, but this reasures everyone that the cabrio will be the same performance machine as the coupe.
The exclusive standard equipment includes semi-aniline-leather-upholstered carbon-fibre bucket seats which can be individually adapted to the driver and front passenger by means of differently sized seat pads; dual-zone automatic air-conditioning; a high-quality BOSE premium sound system; a multifunction sport steering wheel with gear-change paddles, and a navigation system with integral radio and CD player.
The new Mercedes-Benz SLR Roadster, like the coupe, is produced at McLaren's Formula 1 factory in Woking, England, in accordance with stringent Mercedes-Benz quality criteria and will be available as from September 2007.