Muamer Hodzic
March 30, 2009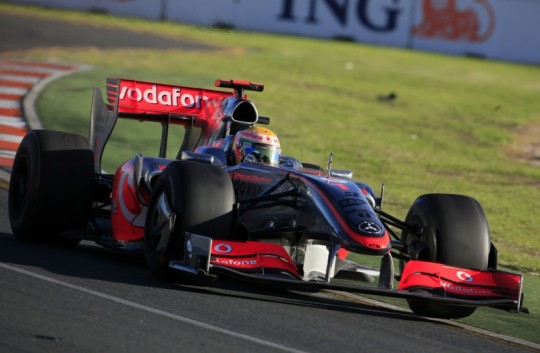 Vodafone McLaren Mercedes driver Lewis Hamilton finished the Australian Grand Prix in Melbourne, the first race of the 2009 Formula 1 World Championship, in third place. His team mate Heikki Kovalainen retired with a broken left front suspension, the consequence of a first-corner incident which was not his fault. Winner of the 58-lap race (307.574 kms) was Brawn Mercedes driver Jenson Button ahead of his team mate Rubens Barrichello; both achieved a 1-2 victory in the team's first race. Brawn GP, formed on March 6th 2009 after it was confirmed that Ross Brawn, the ex-team boss of the Honda Racing F1 Team, had bought the team from Honda. Brawn GP and Force India both use Mercedes-Benz engines to power their F1 cars. Even though, Hamilton didn't win, this is still a win for the Mercedes-Benz engines.

The start: Heikki started 12th on the grid whilst Lewis had qualified 15th. However, due to the broken fourth gear, the gearbox had to be changed and according to the rules, Lewis had to move back on the grid. He started 18th. Lewis was 13th after the opening lap. At the first corner, Heikki was hit by Mark Webber's Red Bull Renault and returned to the pits with a broken left front suspension; he retired.
The race, lap 5: Whilst pole sitter Jenson Button (Brawn Mercedes) held a 4.2sec lead, Lewis was now 10th.
Lap 11: Lewis pitted from eighth place (12sec) and resumed in 15th position.
Lap 19: Following an accident of Kazuki Nakajima (Williams Toyota) the Safety Car was deployed. Lewis was 12th.
Lap 25: Re-start. Lewis improved to 10th position.
Lap 41: After pit stops of Felipe Massa (lap 31), Robert Kubica, Kimi Rà¤ikkà¶nen (both on lap 39) and S©bastien Buemi (lap 41), Lewis was now fifth.
Lap 43: Lewis came in for his second stop (7.8sec) and dropped to 10th, immediately ahead of Felipe Massa.
Lap 49: Lewis drove in ninth position; one lap later, following Timo Glock' pit stop, he was eighth.
Lap 52: Lewis improved to seventh, after Fernando Alonso had pitted.
Lap 54: Lewis overtook Nico Rosberg and was now sixth.
Lap 56: Collision of Robert Kubica and Sebastian Vettel, both retired and the Safety Car was deployed again. Lewis moved up to fourth.
Finish (lap 58): Lewis finished the race in fourth position whilst Brawn Mercedes drivers Jenson Button and Rubens Barrichello achieved a 1-2 victory. Lewis had passed Jarno Trulli during the second Safety Car period whilst the Italian had a short off; however, Lewis let Trulli repass afterwards. After the race, the stewards gave Trulli a 25sec time penalty which meant that Lewis was third.
Comments
Lewis Hamilton
"We scored way more points than we could have realistically expected. I was looking to try and get one point, so to get six is a great achievement. We've definitely not forgotten how to win: our strategy was perfect and the team did a fantastic job. Considering the package we've got, I wrung every last ounce of pace out of the car, drove one of my best ever races and absolutely raced my heart out – I'm so satisfied. Also, my heartfelt congratulations to Jenson – he's driven brilliantly all weekend and both he and his team really deserve this success."
Heikki Kovalainen
"Obviously, my race was very short. Webber had a moment at the first corner and his front wheel hit my left-front. It was a racing accident – these things unfortunately happen."
Martin Whitmarsh
"Today was one of those days on which Lewis demonstrated very clearly just what a fantastic racing driver he is. Throughout the race he showed great speed and tenacity, tempered when necessary by commendable patience. The car we supplied him wasn't as competitive as we'd have liked it to be – we've made no secret of that – but we're working flat-out, night and day, to improve it. The points Lewis scored today are of course very welcome – and, as and when we regain our form, we hope they'll take on a greater significance still. As for Heikki, he started with a heavy fuel-load and could also have scored points today – but, sadly, and blamelessly on his part, his race was ended early on when he happened upon an incident involving two other cars. Lastly, well done to all at Brawn GP – and of course also to Mercedes-Benz, whose superb engines powered the first three cars."
Norbert Haug
"Lewis finally in third place and the best car with KERS – this is more than we had expected after starting 18th. He drove an excellent race under very difficult circumstances and proved his world-champion class. During the second Safety Car period, Trulli had an off and Lewis overtook him for third place, but he let Trulli past again. But the stewards' decision after the race gave him back third place. It's a shame for Heikki; without the first-corner multiple-car collision which was not his fault, he also could have scored a solid result in this turbulent race. Congratulations to Brawn GP, Jenson Button and Rubens Barrichello on their one-two victory – three times Mercedes-powered cars in the top three makes us happy. Our customer team did a great job and we helped to 'Keep the Customer Satisfied'!"