Giancarlo Perlas
October 27, 2023
The 2024 Mercedes-Benz GLC 300 4MATIC Coupe is finally available for order for US customers. This dazzling new addition to the three-pointed star lineup promises a perfect fusion of style, performance, and efficiency. Scheduled to hit US showrooms in the late fall of 2023, the crossover is setting the bar high for auto enthusiasts with its electrified mild hybrid powertrain.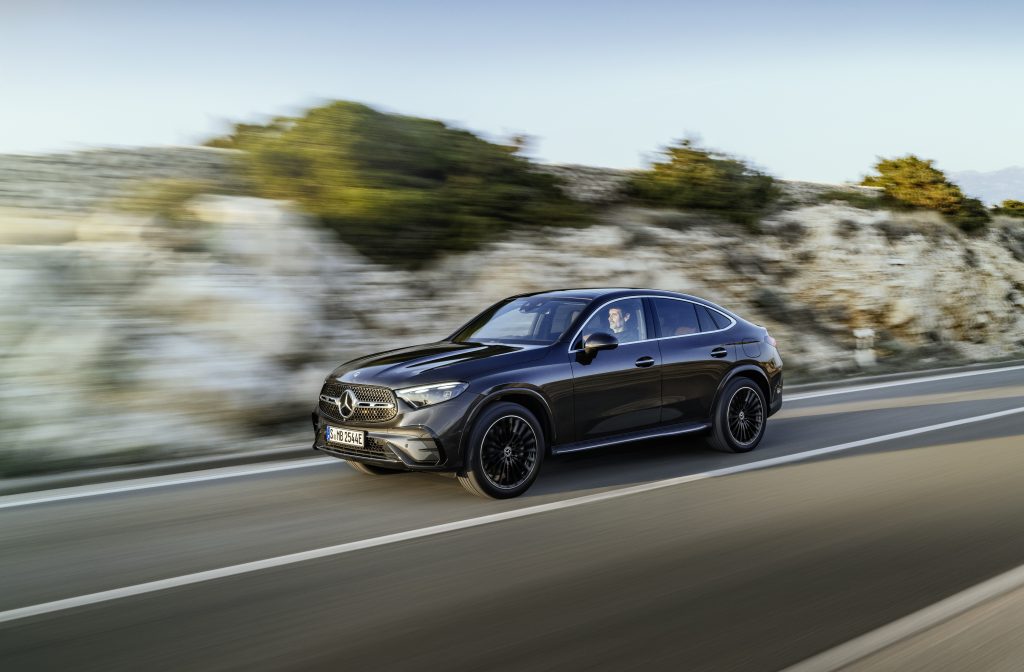 Striking Proportions and Electrifying Performance
The 2024 Mercedes-Benz GLC 300 4MATIC Coupe redefines the art of automotive design. Its striking proportions and sporty silhouette are tailored to captivate the crossover-loving market of North America.
With a starting price of $57,000, this stylish coupe offers a blend of power and efficiency. Thanks to its mild hybrid 48-volt technology, coupled with an integrated starter-generator, drivers can expect an extra boost of power totaling 255 hp and energy recuperation, making it both dynamic and eco-friendly.
A Comfortable, Agile Ride
Behind the wheel, the GLC 300 4MATIC Coupe showcases its prowess. Standard sport suspension ensures comfort and agility, no matter the terrain or season.
Equipped with 4MATIC all-wheel drive and an Electronic Stability Program, this coupe exudes confidence and control in any driving condition, from rain-soaked streets to off-road adventures.
Luxurious Interior Upgrades
Inside, the GLC 300 4MATIC Coupe offers a world of luxury and comfort. Drivers and passengers alike will appreciate the larger driver and center infotainment displays, an upgraded MBUX infotainment system, and an intuitive off-road screen.
The inclusion of a "transparent hood" as part of the Surround View 360-degree camera elevates the driving experience, especially during off-road escapades. The tech that was first introduced in the GLE gives the driver a complete view of the ground and obstacles under the front end of the vehicle.
Customization and Optional AMG Line
Mercedes-Benz understands the importance of individuality. With the new GLC Coupe, customers can tailor their vehicles to their unique tastes.
From paint finishes to upholstery and trim, the options are vast. For those seeking a sportier edge, the optional AMG Line offers distinctive features, including AMG-specific wheels, body styling, and brake discs with Mercedes-Benz lettered calipers.
Initial market deliveries of the GLC Coupe will come equipped exclusively with the AMG Line, starting at $59,850.
Final Thoughts
Mercedes-Benz continues to set the benchmark for luxury and performance with the 2024 GLC 300 4MATIC Coupe. Boasting electrifying power, innovative technology, and a design that exudes sophistication, this coupe is set to be a head-turner when it arrives in US dealerships in late 2023.