Giancarlo Perlas
March 19, 2023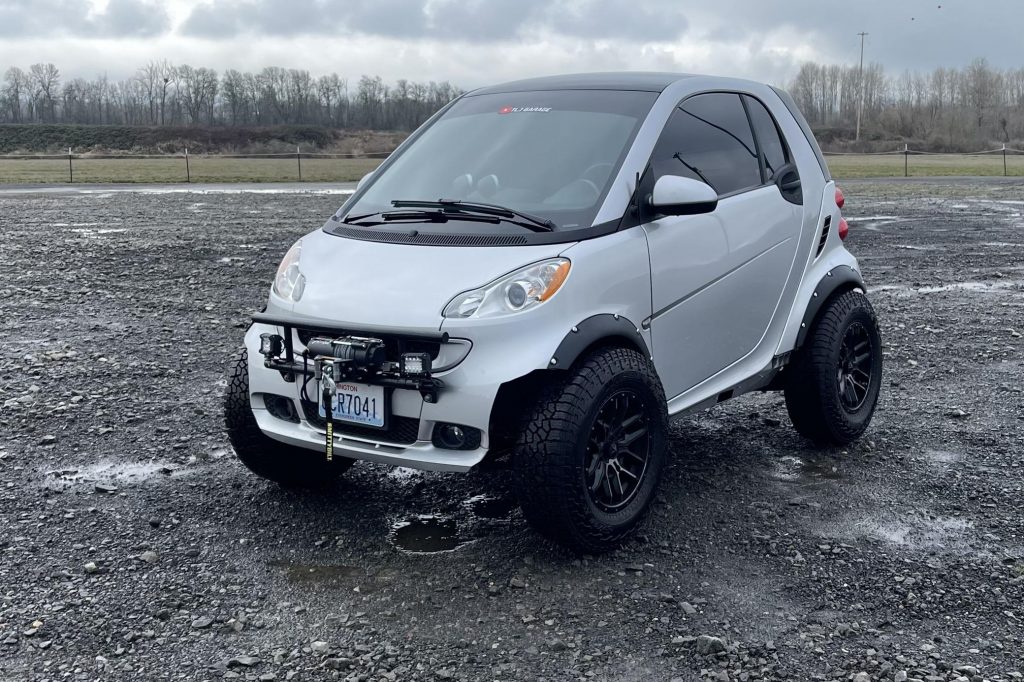 This 2009 Smart Fortwo, located in Ridgefield, WA, is an interesting and unique vehicle that has been modified for off-road use. It has a clean title and has been owned in Oregon and Washington since it was new, with no reported accidents according to its attached Carfax history report. The car has a silver metallic exterior finish and a gray interior.
Key Features
The seller of this vehicle has made several modifications to improve its off-road capability. These include 15-inch wheels, Falken WildPeak all-terrain tires, a 3-inch suspension lift kit, a bull bar, a Smittybilt XRC 3.0 winch, wheel arch flares, tinted windows, and a Kenwood CD player. The seller also reports that the car comes with some of its original parts that were removed during the modifications.
In addition, the Smart Fortwo is offered with some factory equipment, such as a Brabus-specific exhaust system, fog lights, a panoramic roof panel, leather and cloth upholstery, heated seats, and brushed aluminum pedals. Power is provided by a 1.0-liter 3-cylinder engine that produces 70 horsepower and 68 lb-ft of torque, which is paired with a 5-speed automated-manual transmission that drives the rear wheels.
Issues
The modifications to the Smart Fortwo make it an interesting vehicle as it's not really intended for off-road use, but there are some known flaws that potential buyers should be aware of. These include some chips on the exterior finish, crinkles in the tint of the rear window, and significant wear on the driver's seat's outer surfaces.
The issues seem fairly normal for an aging car. However, there are others worth noting as well which may likely have stemmed from its upgrades, especially on the wheel area. Probably due to the larger wheels, the tire pressure monitoring system's warning light comes on intermittently, the speedometer produces inaccurate readings, and the tires tend to rub against the inner wheel arches when turning, according to the owner.
Service Record
The service records of the car show that it has been regularly maintained, with the engine compartment damping being replaced in February 2023 at 70,819 miles. An alignment was performed in August 2022, and in September 2018 at 58,350 miles, the engine oil and filter, front brake rotor(s), and front brake pads were changed.
Other Inclusions
In addition to the car itself, the sale includes two keys, the owner's manual, service records, spare wiper blades, and the removed factory 15-inch front and 17-inch rear wheels, side skirts, and head unit. The current seller bought the unit sometime in May 2022.
Where to Buy
Overall, this modified 2009 Smart Fortwo is a unique vehicle that could be a lot of fun for off-road enthusiasts. Interested buyers can check out more information and photos on the original listing on Cars and Bids.