Giancarlo Perlas
March 2, 2023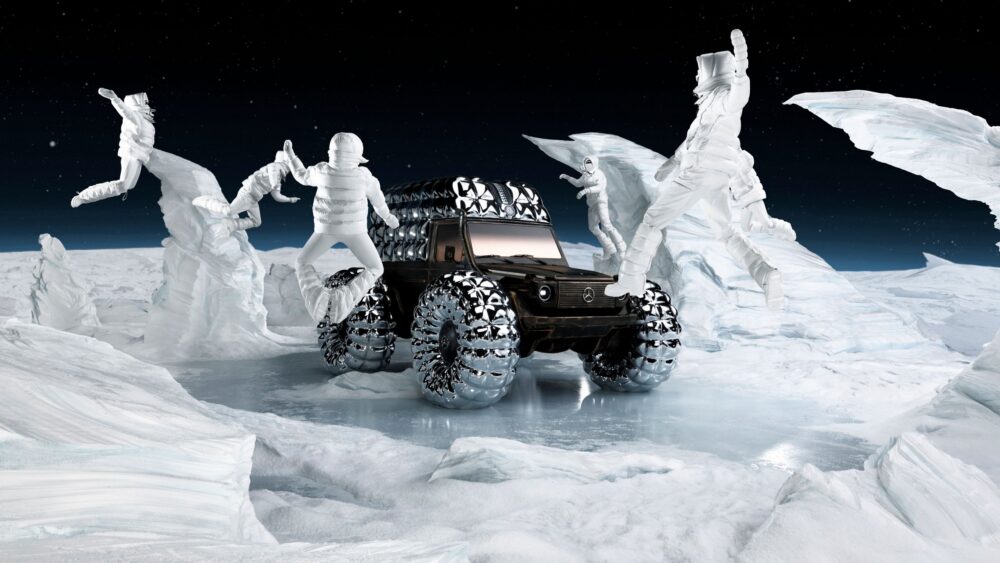 Mercedes-Benz and Moncler are two distinct brands belonging to different niches. One is an automaker and the other is a maker of fashionable puffer jackets. So, here's what happens when the two collaborate on a project involving the G-Class.
The result of the partnership between the two is the bubbly G-Wagen they call the "Mondo G". At a glance, the SUV looks like it's something that just came out of an 80s or 90s sci-fi film, which shows their vision of the future back then. Its preview likens it to a lunar rover, too.
Mondo G features the SUV wrapped in a shiny, metallic, oversized puffer jacket complete with a zipper locking it in place. The bubbly cover spans over the roof and it covers the entire area between the B- and D-pillars. The same material also hugs the wheels as a replacement for the tires.
Mercedes and Moncler have a good excuse for this outlandishness by saying that pushing the boundaries was merely for the sake of art. The automaker explains the "reimagined G-Class enters a new dimension where earthly rules are distorted, and a new reality is imagined through art and technology."
Fortunately, this particular customization for the Mercedes-Benz G-Class is only a concept and a one-off design. So, no need to worry about seeing this on the road anytime soon.
If you're on the lookout for more ridiculous G-Wagen builds that are road-worthy, however, there's no need to look further than some of the over-the-top creations of Mansory like the Mercedes-AMG G63 Coupe it unveiled earlier.