Giancarlo Perlas
October 22, 2021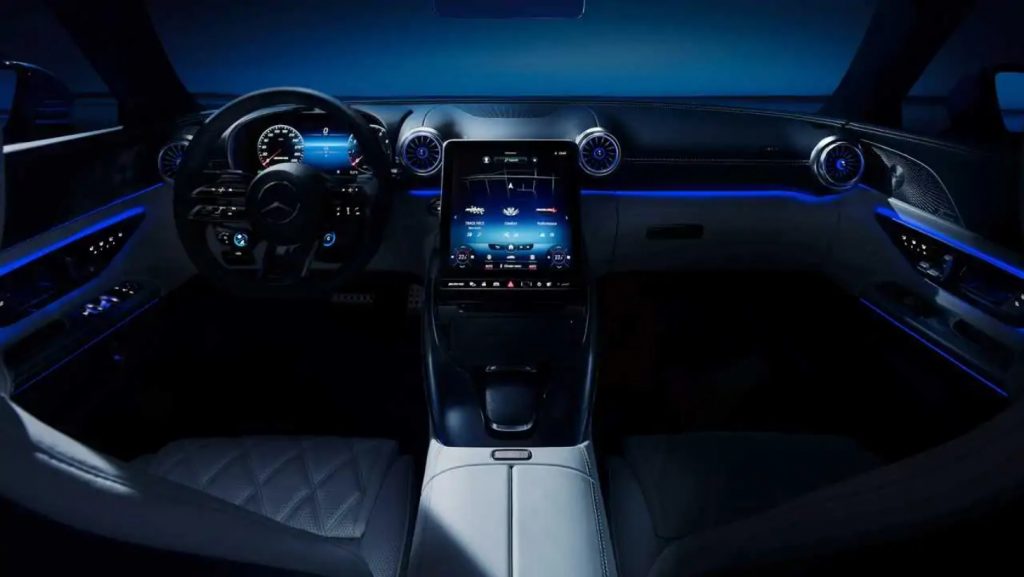 After pushing the digital launch of the Mercedes-AMG SL from October 20 to the 28th, the three-pointed star marque continues to build anticipation for what is about to come from the next-gen series of the high-performance roadster. Just to remind us how awesome it is, the company recently teased the interior of the car again.
It's quite surprising that the new AMG SL didn't go for the Hyperscreen layout present in the latest EQ models. The decision could be an indication that Merc intends to keep this specific tech in its fully electric vehicles under the EQ badge.
However, the roadster stands out on its own with its aviation-inspired instrument panel featuring a symmetrical design similar to an aircraft. The theme is further emphasized by its turbine-looking air vents and sculptured dashboard resembling that of a jet.
In addition, the cockpit of the AMG SL showcases a high-resolution 12.3-inch LCD screen with a visor to help protect the instrument from the sun's glare. The intelligent infotainments system is, of course, powered by the latest MBUX system of Mercedes. The teaser also shows a bit of the leather seat cover in Nappa and Dinamica with diamond stitching patterns. More of these can be seen in the previous interior photos of the car last month.
Mercedes is yet to officially unveil the exterior of the AMG SL but a leaked image of the auto tells us that the show car will be in red paint with twin eight-spoke wheels, narrow and angular headlamps, and with many styling elements borrowed from the AMG GT.
As for the AMG SL's powertrain, expect it to get V6 and V8 units. The petrol engine will likely be partnered with an electric motor for a mild-hybrid setup, especially for the top-trim models.