Giancarlo Perlas
June 6, 2021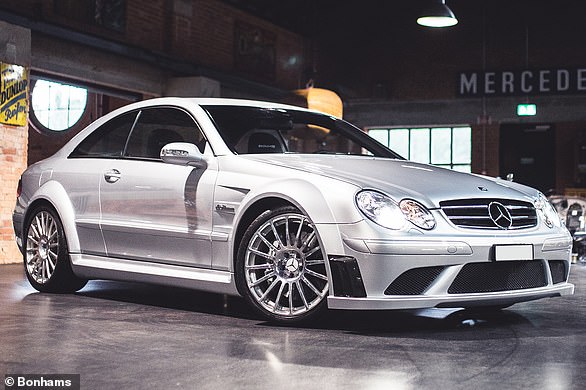 The Mercedes-Benz CLK 63 AMG Black Series was the most powerful car of AMG when it came out, and only 1,000 units of the vehicle were built during its production run from 2007 to 2009 making it a rare classic. One ended up in the hands of 20-time Grand Slam tennis star Roger Federer. Now, the auto is up for grabs at Bonhams' Bonmont Sale in Switzerland on June 20.
Federer is estimated to have pocketed a total of $129.92 million in tennis prize money over his entire career. He is only second to Novak Djokovic who earned approximately $143.63 million. He is also known for his impressive luxury and sports car collection that includes the Mercedes-AMG GT S, Mercedes-AMG G63, Mercedes-Benz SL AMG, Mercedes-AMG GLE 63 S, Mercedes-Benz CLS 450, and Mercedes-AMG SLS. Aside from his legendary sporting career, the star is an ambassador of the Mercedes brand.
Federer's CLK AMG Black Series is getting auctioned for the first time. The track-focused car is highlighted by its 6.2-liter V8 engine with 507 bhp and 464 lb-ft of torque, thanks to its large inlet manifold, tweaked exhaust system and remapped ECU. It is partnered to a seven-speed automatic transmission with F1-inspired paddle shifters, and all power is directed to the rear wheels. The configuration allows the unit to sprint from 0 to 62 mph in 4.3 seconds with an electronically-limited top speed of 188 mph, which is just 45 mph faster than the tennis player's fastest recorded serve.
Compared to the standard CLK, the Black Series version features extended wheel arches, large air vents on the front wings, rear diffuser, carbon fiber rear spoiler, quadruple exhaust tips, and 19-inch alloy wheels. The 2009 Mercedes-Benz CLK 63 AMG Black Series of Federer was priced at £100,000 fresh from the factory, but it is expected to fetch up to £160,000 at the Bonhams auction due to its rarity and ownership history.