Giancarlo Perlas
February 22, 2021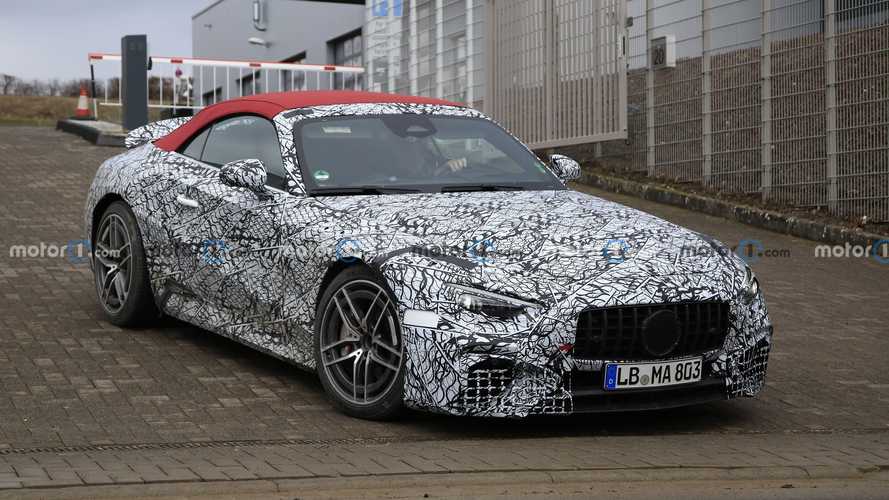 The sixth-generation Mercedes-Benz SL goes way back in 2011 and its mid-production facelift came in 2016. Being already a decade old, it's already ripe for an upgrade. Last year, spy shots of its camouflaged next-gen model were already out in the open, and recently, its prototype has started stripping down some of its covers.
The new photos of the auto taken by Motor1 show the upcoming SL convertible sporting a red fabric top. While many of us would prefer a hard top over a soft top, it turns out that Mercedes still made a good choice in going for the less preferred option favoring the more gorgeous design provided by the latter.
The rest of the car remains hidden, and it appears that the camo is also covering some paddings to conceal the true form of the new SL. Taking into consideration the cleaner and smoother surfaces of the new Mercedes models revealed lately, the convertible will likely adopt the same design elements for its production version.
The SL pictured here is clearly an AMG variant, judging from its Panamericana vertical grille styling, rear spoiler, front lip spoiler, and 20-inch wheels. The car is still in its early development phase so information about its powertrain is scarce at the moment. However, if rumors are to be believed, it might start with the rear-wheel-drive SL 43 up to the all-wheel-drive SL 73e with plug-in hybrid configuration boosting its output near the 800-hp mark. Between the said trims will probably include the all-wheel-drive SL 53, SL 53e, SL 55 S, and SL 63.