Giancarlo Perlas
January 21, 2021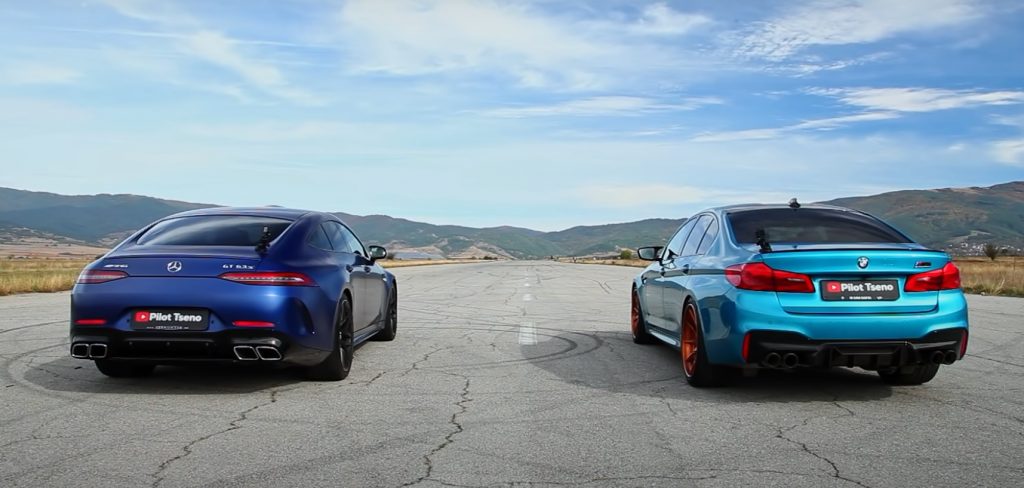 The Mercedes-AMG GT 63 S 4-Door became the fastest four-door production car to finish a lap in Nurburgring back in 2018. It was unseated by the 2021 Porsche Panamera in 2020 but it eventually reclaimed the crown in its 2021 model year series.
The 2018 AMG GT 63 S 4-Door's superiority was recently challenged by its contemporary from BMW, the M5 Competition. Well, it should have been the M8 Gran Coupe but that's all they've got for now.
Before going on with the show, here's a quick backgrounder on both cars:
2018 BMW M5 Competition
The Bimmer weighs 1,950 kgs, and it is equipped with a 4.4-liter twin-turbo V8. The power unit is good for 617 hp and 750 Nm of torque distributed via an eight-speed automatic transmission to an all-wheel-drive system that promises a 0-100 km/h acceleration time of 3.3 seconds.
2018 Mercedes-AMG GT 63 S 4-Door
The 2,100-kilo Merc boasts a 4.0-liter twin-turbo V8. The engine produces 630 hp and 900 Nm of torque and managed by a nine-speed automatic gearbox to an all-wheel-drive system. The king of Nurburgring back in 2018 claims a 0-100 km/h acceleration of 3.2 seconds.
The Race
Watch the video below to find out how the race between the M5 and the AMG GT 4-Door unfolded, or skip to the next part for the results.
Results (Spoiler Alert)
The Bimmer beat the Merc two times in the best of three drag race. After a 1-1 tie, the AMG GT 4-Door was disqualified at the last stage of the race because it started too early.
It should be noted that there was no rolling start during the process. The two were almost evenly matched, and it appeared that the determining factor of each finish was the reaction times of the drivers on the starting line.
The BMW M5 Competition had a 0-100 km/h time of 3.22 seconds, and 100-200 km/h in 7.96 seconds. The recorded max speed of the car in a quarter-mile run was 200.06 kph. Meanwhile, the Mercedes-AMG GT 63 S 4-Door took 3.11 seconds in its 0-100 km/h run, and 8.21 seconds in the 100-200 km/h mark. It did 198.55 kph in the quarter-mile stretch.