Giancarlo Perlas
November 7, 2018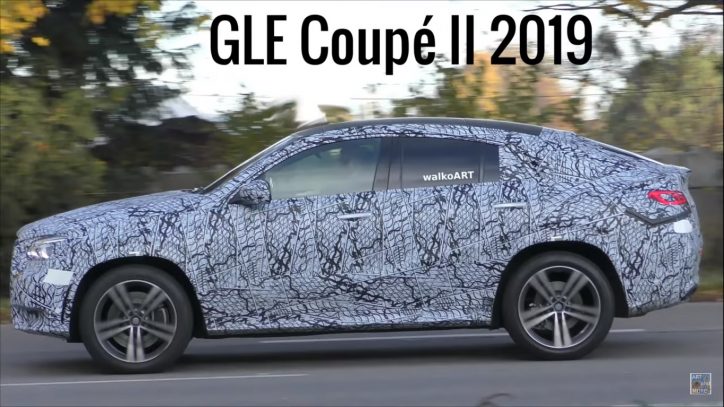 The spies have been busy as of late as a new video reveals a Mercedes-Benz SUV prototype in the works. The vehicle is suspected to be a next-generation Mercedes-Benz GLE Coupe model.
Although the auto appears to be clad in full camouflage, its dimensions and shape follow the current GLE Coupe. From the nose way back to the slope of its roofing going to the rear hatch, everything screams of the compact SUV.
The auto is certainly carrying a sportier stance and has a longer wheelbase than the Mercedes-Benz GLC Coupe. Also, the bulges on the greenhouse and the subtle rear spoiler match the present GLE Coupe styling.
Since the prototype is completely wrapped in zebra camo, the unit we are looking at might be a new generation model of the GLE Coupe. We should expect the body of the vehicle to feature a smoother and cleaner texture similar to the Mercedes-Benz A-Class Sedan. Meanwhile, we look forward to nothing less than the goodies found in the cockpit of the new Mercedes-Benz CLS such as the huge displays, turbine-inspired air conditioning vents and MBUX multimedia system integrated into it.
Although the video refers to the GLE Coupe as a 2019 model, it should be noted that the product roadmap of Mercedes for that year does not mention the vehicle. Therefore, the unit might come with a 2020 badge.
It is still too early to speculate on the possible engine specs of the upcoming GLE Coupe but we are expecting it to follow the powertrains of the E-Class. A slight power bump on them should not be ruled out as well.
Until then, let's just enjoy the new spy video of the upcoming Mercedes-Benz GLE Coupe below: