Giancarlo Perlas
August 26, 2018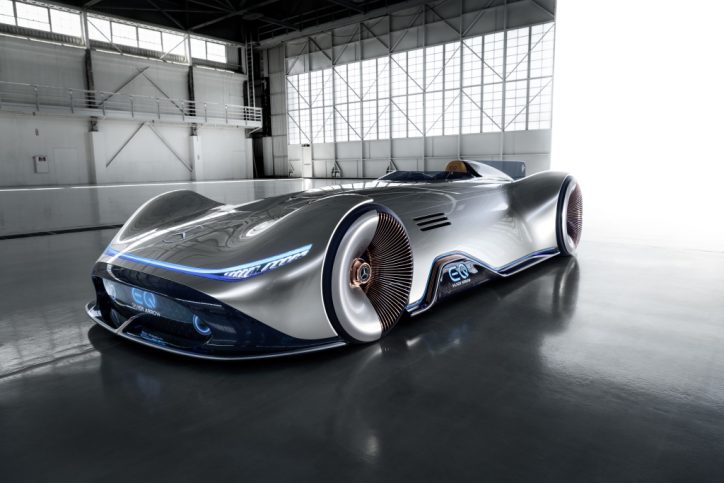 The Mercedes-Benz Vision EQ Silver Arrow is finally out. The concept car made its debut at the Monterey Car Week held in Pebble Beach, California, on August 25, 2018. It carries a retro-futuristic design showcasing the styling elements of Mercedes' old race cars and combines them with an all-electric technology.
Design
The Vision EQ Silver Arrow is a single-seater that's reminiscent of the 1930s to 1950s Mercedes race cars. Shades of the 1955 Mercedes-Benz W196 Type Monza can be seen in its styling. It also appears as an evolution of the Mercedes-Benz Silver Lightning concept unveiled in 2011—without the ridiculous-looking wheels, fenders, and spoilers.
According to Mercedes, the Vision EQ Silver Arrow uses a "Progressive Luxury" design. The company describes it as a "combination of a previously unknown beauty, the conscious clash of digital and analog elements as well as the seamless merging of intuitive and physical design."
Among the highlights of the car include a silver paint finish, forward-folding cockpit, non-rotating hubcaps, lightweight aluminum wheels wrapped in 255/25 R 24 tires at the front and 305/25 R 26 tires at the rear, side skirts, F1-inspired rear diffuser, two extendible rear spoilers, and EQ letterings illuminated in blue. Meanwhile, the interior gets a large 3D panoramic screen, a touchscreen on the steering wheel, racing seat with neck-level heating, and luxurious grey suede leather covers.
Performance
The electric motors of the vehicle provide a total of 750 hp. The rechargeable battery of the concept car produces around 80 kWh with a range of more than 400 km. The side air vents offer cooling to the battery to improve its performance.
Photos
Here are the official photos of the all-new Mercedes-Benz Vision EQ Silver Arrow: