Giancarlo Perlas
July 21, 2017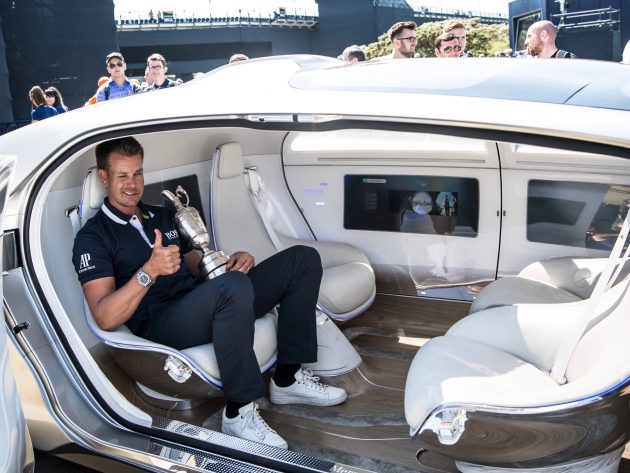 As Henrik Stenson glides to The Open earlier this week, he surprised everyone by doing so in a Mercedes-Benz F015 Concept Car. The future certainly has a lot in store for the concept car as it turned a lot of heads at the Royal Birkdale.
According to a report, celebrities, athletes, and sporting icons were all impressed with the concept car, with Thomas Pieters even coming over to film the car on his phone. China's Haotong Li, a Mercedes-Benz brand ambassador himself, had his picture taken with the concept car even though he is no stranger to the German auto brand's unique creations.
It is easy to understand why these athletes-celebrities are wowed by the Mercedes-Benz concept car. It looks something that belongs to the future and travelled back exclusively to be at Birkdale. Think Minority Report minus Tom Cruise fighting his future criminal self.
Mercedes-Benz brought out the F015 concept car to The Open to emphasize the brand's future plan for autonomous driving. It described the car as a "shared space in tomorrow's world." It is an electric-powered, self-driving vehicle complete with a luxurious interior that has always been one of Mercedes' trademarks.
If it comes into fruition, the F015 is going to be a four-seater vehicle with two rows of rotating seats. On the inside of the door panels, there are multimedia screens, allowing the passengers to access a range of tech options.
For that touch of luxury, the interior is finished with open-pore walnut floor, soft ice-white nappa leather seats and trims in chrome and glass.
Mercedes-Benz is the official car and a strong supporter of The Open. The F015 was shipped to The Open to mark the occasion.