Giancarlo Perlas
March 9, 2017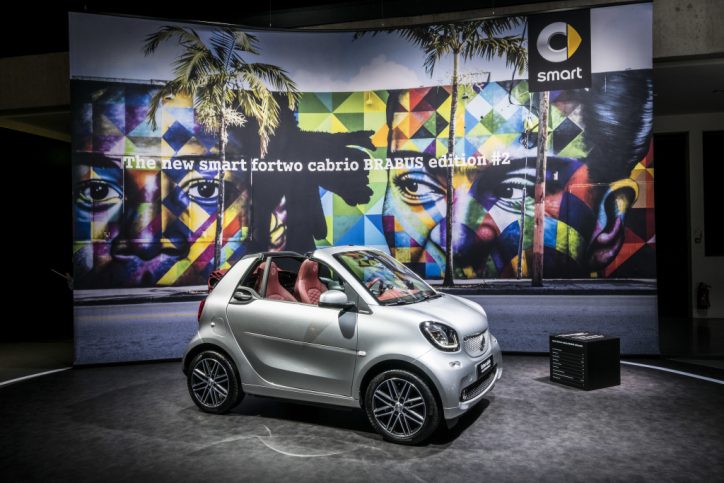 The smart division of Daimler may have been overshadowed by its Mercedes-Benz, Mercedes-Maybach and Mercedes-AMG brands at the 87th Geneva International Motor Show. However, the name continues to impress when it comes to the urban compact car segment of the market when it introduced the smart fortwo Brabus edition #2 together with the smart forfour crosstown edition.
1. Exterior
The special edition fortwo is defined by a more stylish appearance compared to its standard model. The exterior of the auto comes in cool silver paint finish, striking red soft top, H4 halogen headlights, LED fiber-optic DRLs and LED taillights. The car also receives the signature 16-inch Monobock VIII alloy wheels of Brabus, which is in high-sheen anthracite finish.
2. Interior
The interior of the smart fortwo Brabus edition #2 is tailored to match its exterior with its ruby red leather surfaces in the seats, dashboard, side panels and steering wheel. The velour floor mats of Brabus further make the interior of the auto dashing. Other noteworthy elements found inside the car are its 7-inch multi-touch display and heating system for the seats.
3. Engine
The special fortwo is powered by a three-cylinder turbo with an output of 90 hp. It is partnered with the twinamic 6-speed dual-clutch transmission. The compact vehicle has a combined fuel consumption of 4.2 l/100 km and its combined CO2 emissions is 97 g/km.
4. Exclusivity
Daimler revealed that the smart fortwo Brabus edition #2 will only be produced in 100 samples.
5. Availability
The car is already available for order with a starting price of € 26,750, including 19% VAT, in Germany.
Photos of the smart fortwo cabrio Brabus edition #2
Check out the gallery below for the photos of the smart fortwo cabrio Brabus edition #2 together with the smart forfour crosstown edition: