Giancarlo Perlas
March 10, 2017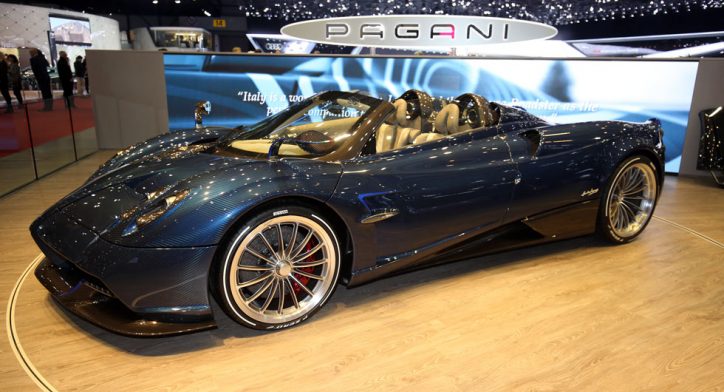 After a long wait, the all-new Pagani Huayra Roadster finally makes its world premiere at the 87th Geneva International Motor Show. The roadster is powered by a Mercedes-AMG engine.
It's Complicated
Based on its automaker's official website, the Pagani Huayra Roadster took six years to be developed. The supercar is hand-built and its company founder Horacio Pagani stated that it is the most complicated project they undertook.
Design
The Pagani Huayra Roadster carries the styling of its coupe version, except of course without the fixed roofing and the more rigid front pillar. Despite the added reinforcements on the car to make up for its missing hard top, its maker said that the auto is 176 lbs. lighter than its coupe version.
Powered by Mercedes
The supercar is propelled by the 6.0-liter biturbo V12 engine handcrafted by Mercedes-AMG. The unit has an output of 764 hp and 738 lb-ft of torque. Then, the engine is paired with a seven-speed single-clutch manual gearbox similar to the one found in the Pagani Huayra BC. The power of the car is concentrated to the rear wheels.
Performance
There is no official information yet about the zero to 62 mph acceleration time of the supercar. It is estimated to be under three seconds though. Also, it is approximately a fraction of a second faster than its older coupe sibling.
Pricing
The price of the roadster starts at 2.28 million euros or around $2.41 million, excluding the taxes and delivery fees.
Photos
Here are the photos of the Pagani Huayra Roadster at the ongoing 2017 Geneva Motor Show: