Giancarlo Perlas
March 1, 2017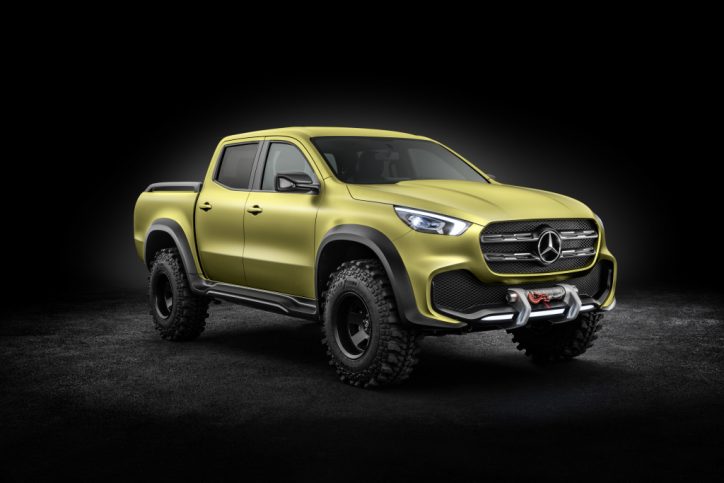 The Mercedes-Benz X-Class pickup will have its market launch in Europe in late 2017. The vehicle will be made under the Daimler AG and Renault-Nissan Alliance.
According to the Global Media Site of Daimler, the Mercedes-Benz X-Class targets these five customer groups:
1. Families
The Mercedes pickup is aiming for families with active lifestyle. The vehicle is ideal for going to work, taking the kids to school, shopping, going to vacation spots and when attending recreational activities. The key markets for this group are Brazil, Argentina, Australia and South Africa.
2. Adventurers
The cargo space and towing capacity of the X-Class make it handy for individuals attending outdoor sports like skiing and riding jet skis. It can also be used to tow a boat for those who love fishing trips or going to water sports activities. The significant markets for this class are Great Britain, Germany, Australia, South Africa and Brazil.
3. Trend-Conscious
Of course, being a Mercedes, the X-Class has a huge potential to attract trend-conscious people with premium tastes. The vehicle possesses a unique personality and styling, which makes it great in this category. This goes with the markets of Great Britain, Germany, Brazil and South Africa.
4. Business Owners
The X-Class is attractive to architects, building contractors and service providers whether they are taking the pickup for work, picking up building materials, personal travels or transporting their clients and employees. The significant markets for this group are Great Britain, Germany, Australia and Argentina.
5. Landowners
Landowners like farmers and ranchers will appreciate the X-Class too. The hauling and cargo capacity of the vehicle plus its potentials to conquer rough terrains make it suitable for this group of customers from Argentina, Brazil and South Africa.