Giancarlo Perlas
April 12, 2016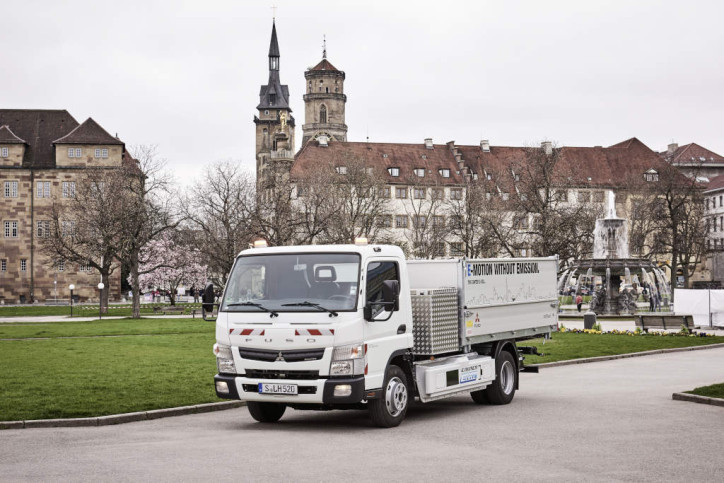 As of April 11, the Global Media Site of Daimler AG announced that they just commenced the first fleet test of their zero emissions trucks. The vehicles are all battery-operated, and the project is run by the Fuso brand of Daimler Trucks with the cooperation of the Municipality of Stuttgart and Hermes logistic company.
The trucks are branded as the Fuso Canter E-Cell. Four trucks are used throughout the duration of the test. Each weighs six tonnes and equipped with special equipment to be used in various tasks.
Two trucks come with hydraulic tipper bodies to be utilized in road construction and landscaping. The other two have box bodies for delivery tasks, including furniture transport and waste bin transport.
The zero-emissions test will span for a whole year. Logistics firm Hermes is working together with the world's leading truck maker.
It should be noted that Hermes has been an important test partner of Mercedes-Benz since the 1990s when it comes to alternative drives. Among the latest noteworthy cooperation of the firm with the known luxury car brand was during the testing of the Vito E-Cell wherein the van traversed the parcel delivery routes in Berlin and Hamburg.
Hermes looks to cut the overall carbon dioxide emissions of its fleet by 2020 by switching to all-electric drive deliveries in London and other pilot projects in Germany.
The launching of the test for Daimler zero emissions trucks was attended by Lord Mayor Fritz Kuhn of Stuttgart. Representing Daimler AG was Dr. Wolfgang Bernhard, a board member of the company and head of Daimler Trucks and Buses. Furthermore, President and CEO of the Mitsubishi Fuso Truck and Bus Corportation (MFTBC) and Daimler Trucks Asia head Marc Llistosella was present.