Ryan Joseph Ramos
October 25, 2015
Nico Rosberg will start at the head of the grid at the 2015 United States Grand Prix. With delay upon delay at the qualifying session for US GP and the rain looking like it had no intention of letting up, Q3 was cancelled and the grid was determined by Q2, which Rosberg topped amid conditions that continued to get worse during Sunday.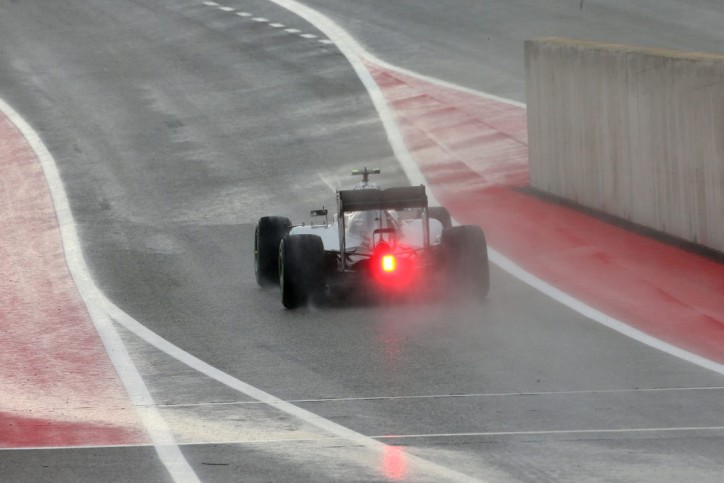 Just as the drivers prepared to brave the wet track for Q3, we could hear shouts of "stop! stop!" via the team radios. With the decision to cut qualifying short, Mercedes was granted another front-row lockout. With Rosberg and Lewis Hamilton up top, the Red Bulls of Daniel Ricciardo and Daniil Kvyat made the most of the rainy situation by qualifying in the second row.
Hamilton has a good chance of clinching the driver's championship in this race. With a 66-point advantage over Sebastian Vettel, he only needs 9 more points over the Ferrari driver and two more points over Rosberg to officially grab his second-straight F1 title and third overall.
Vettel's Ferrari is in P5, followed by the Force India cars of Sergio Perez and Nico Hulkenberg, respectively. At P8 we have the Ferrari of Kimi Raikkonen, then Felipe Massa in P9 and Max Verstappen in P10. Of course, Vettel and Raikkonen are slapped with a 10-place grid penalty because the Ferraris will use a new engine for the US GP.
That only boosts Hamilton's chances of claiming the driver's title during Sunday's race, but could be a bit difficult with Rosberg getting his third-straight pole position. But keep this in mind: Hamilton's two wins at the Austin track were won from P2 on the grid.
The qualifying session had already been pushed back to Sunday because of the rain, but delays continued to mount during the sessions and eventually the stewards had to cancel Q3.
Mercedes had already clinched the constructor's title at the last race in Sochi.
Hopefully the race pushes through at 1900GMT. Then we'll see if this is still a competition, or if it will be a coronation.