Ryan Joseph Ramos
June 4, 2015
Since starting production of the Sprinter Classic in September of 2013, the Mercedes-Benz Vans / GAZ plant in Nischni Nowgorod, Russia has now produced a total of 10,000 units of the company's strong-performing multi-purpose van.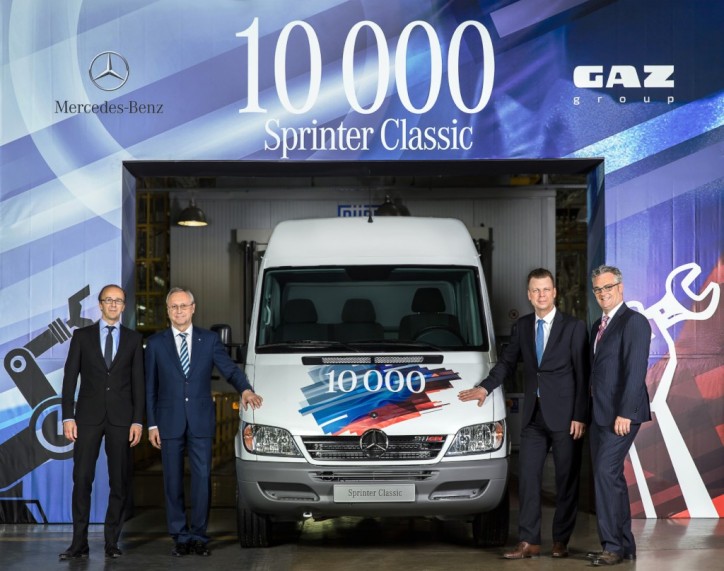 The milestone comes off the heels of a record 6,600 units ssold in the country by Mercedes-Benz, cementing the Sprinter Classic's status as the most popular Mercedes-Benz van in Russia and showing just how key the model line is for the company's success in the country.
Mercedes-Benz Vans Russia chief Soeren Haese cited each Sprinter Classic produced by the plant as a testament to the kind of quality the Mercedes-Benz brand represents. In addition, he noted that the vehicle is a 'key pillar' that caters to the particular needs of the Russian market in terms of the large van segment.
This year marks the 20th anniversary of the Sprinter, so having the milestone is also a nice achievement. The Sprinter Classic is actually produced in the country under GAZ, a partner company. Over 100 million euros have been invested by the German automaker in connection with this partnership, allowing more than 40 percent of the vehicle to be produced locally. This also helps boost local employment in the areas with production facilities.
Thanks to careful considerations of the needs of its Russian customers, Mercedes-Benz Vans is able to provide a variety of options not just in terms of vehicle configurations but also with the body and the kind of equipment that each Sprinter carries.