Giancarlo Perlas
February 14, 2015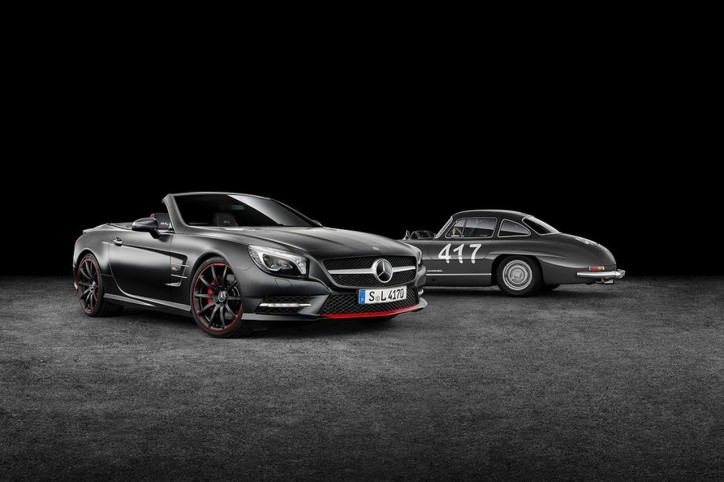 The year 1955 was a very amazing year in the history books of Mercedes-Benz. It marked another Drivers' Championship win for Juan Manuel Fangio in Formula One using a car with the three-pointed star marque, plus as an unforgettable victory by Stirling Moss in a Mercedes-Benz 300 SLR at the same year's Mille Miglia race.
However, another victory in the 1955 Mille Miglia that was seldom mentioned was the win of the John Cooper Fitch, together with his navigator Kurt Gesell, in a Mercedes-Benz 300 SL in its respective class. So, in commemoration of the auto manned by Fitch and Gesell with the body number 417, Mercedes-Benz will be launching a special-edition car with its namesake.
According to Autoblog NL, the German automaker will be unveiling the Mercedes-Benz SL 417 Mille Miglia special edition package at the Geneva Motor Show, which will be held next month. The car will have a few styling upgrades that will remind people of the Fitch/Gesell unit.
The cosmetic improvements include a rear spoiler, and a combination of red and matte carbon accents. A new set of AMG wheels are offered in the package too. In addition, the interior will be redesigned to complement the theme of the car.
As for the engine configurations, no changes will be made to them. The source claimed that it would still come with the standard options such as the SL 400 with 333 PS V6 engine and the SL 500 with 455 PS V8 power unit.
Mercedes will also be installing adaptive dampers in the car to provide it more stability when driven in corners. Customers have the option to avail of the Active Body Control system add-on as well.
Interested buyers located in Germany can avail of the package at €14,000 for the V6 variant, and €12,800 for the V8 version.