Ryan Joseph Ramos
April 20, 2014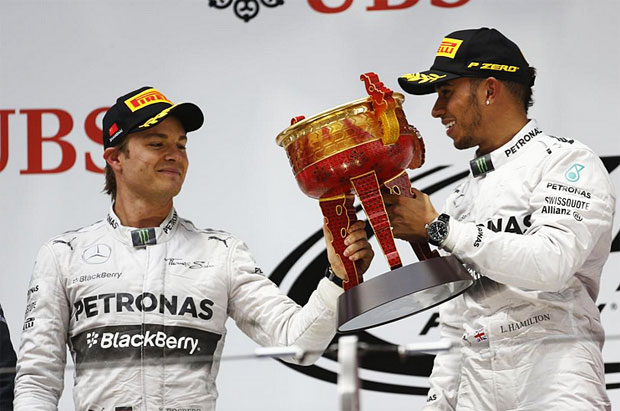 It is officially a trend.
Mercedes AMG Petronas posted its third straight one-two finish at the Chinese Grand Prix, with Lewis Hamilton once again taking the win and Nico Rosberg finishing in second place. The win also makes it four victories in four races for the team, with Rosberg taking the title at the season opener in Australia.
This particular win gives Hamilton 25 for his career, which puts him in a tie for eighth place on the all-time list along with Niki Lauda and Jim Clark.
Rosberg finished in second place in remarkable fashion, driving composed even with a complete failure of his car's telemetry system. That meant the team engineers did not have access to vital data throughout the GP. It also followed some mishaps during the late stages of qualifying.
Both drivers employed a two-stop strategy, with Hamilton pitting on lap 17 and lap 38, while Rosberg went into the pits during laps 13 and 37. Both drivers also went the option/prime/prime route for their tyres.
His third straight win allowed Hamilton to inch closer to Rosberg in the drivers' standings. The Brit now trails by four points, 75 to 79. Rosberg has remarked albeit jokingly in the past that he hates finishing second to Hamilton, and we have yet to see if the German can outpace his teammate so far this season.
Fernando Alonso rounds out the podium finishers, with Daniel Ricciardo and Sebastian Vettel in P4 and P5, respectively. The other points finishers are Nico Hulkenberg in P6, Valtteri Bottas in P7, Kimi Raikkonen in P8, Sergio Perez P9, and Daniil Kvyat P10.
We take a few weeks off before the next race. The Spanish Grand Prix is set for May 11, so look forward to more F1 coverage from us!