Peter Parcon
January 26, 2014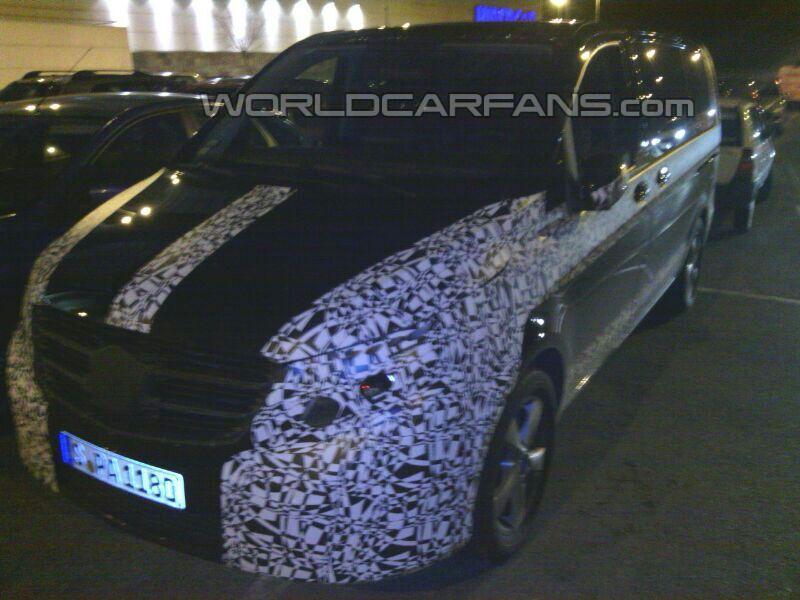 A report from worldcarfans.com indicated that a Mercedes-Benz V-Class prototype was spotted recently in Guadalajara, Spain. A reader of the website sent close-up images showing the upcoming vehicle sporting light camouflage.
The reader spotted the vehicle at night as it was parked at a Guadalajara mall. The reader took a number of exterior images of the soon-to-be-unveiled vehicle offering of Mercedes-Benz. The images provided by the reader also included the interior cabin of the vehicle. The chic interior of the vehicle indicates that it is more focused on the passenger compared to the current model of the Mercedes-Benz Viano.
The luxury vehicle manufacturer is reportedly planning to sell the vehicle through its passenger showroom. The vehicle is supposed fill the gap that was left by the Mercedes-Benz R-Class.
Although the engine lineup for the upcoming vehicle remains uncertain, it is expected to be a 2.1-liter four-cylinder BleuEfficiency diesel engine. The engine is expected to be offered in three power output levels, 136HP (100kW), 170HP (125kW), and 190HP (139kW).
The vehicle is also expected to feature a seven-speed automatic transmission linked to the engines. It may also feature the recently-developed 9G TRONIC nine-speed automatic transmission system that was unveiled on the Mercedes-Benz E350 BlueTec.
The upcoming Mercedes-Benz V-Class is expected to be launched by the luxury vehicle manufacturer in the coming week and may be available in the market within the year.