Ryan Joseph Ramos
January 26, 2014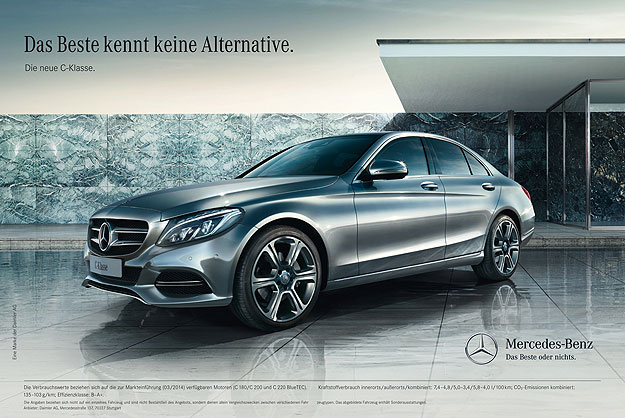 The C-Class is one of Mercedes-Benz's bestsellers, and thus it should come with a solid marketing campaign. For the worldwide promotional effort for this new C-Class, the slogan is "The best knows no alternative," reinforcing the C-Class's position as the premiere medium-segment offering in the Mercedes-Benz ranks.
According to Mercedes-Benz Passenger Cars Vice President for Marketing Communications, Dr Jens Thiemer, the campaign underscores the automaker's commitment to being "The Best" and asserting that the C-Class is indeed the ideal option at this vehicle segment.
The C-Class is being marketed toward successful professionals who value quality and style, and the vehicle is equally ambitious and characterizes a sense of independence. With what the automaker calls 'visually progressive design features' highlighting the modern luxury embodied by the car, the C-Class indeed has a distinct appeal.
A complete assortment of materials were made to promote the C-Class in this worldwide campaign. These materials will be featured in TV spots, a wide variety of publications, and on the Web. You can watch the TV spot below:
You can check out the interactive web highlight special over at www.mercedes-benz.de/c-klasse (it's in German, though). We expect this online aspect to be available once the C-Class rolls out in other markets.