Ryan Joseph Ramos
January 20, 2014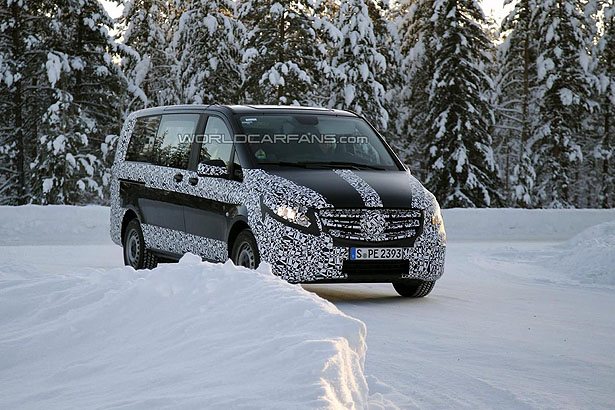 Just after that massive polar vortex and with possibly a new one on the way, coupled with the sun's pronounced lack of activity, the temperatures we're experiencing are perfect for cold-weather testing. That's something that the new 2014 Mercedes-Benz V-Class took head-on recently, as it was spotted testing in the snowy wild ahead of its official reveal on January 30.
The new V-Class is set to replace the R-Class luxury MPV in terms of its role within the automaker's vehicle lineup, although it is being marketed as the successor to the Viano MPV line. The unveiling is set to be held in Munich, Germany.
It is notable that the V-Class sports a much classier interior as well as higher-end materials for the exterior. That might not be readily apparent in the camouflaged spy pics, but since this vehicle line is set for wide release across Mercedes-Benz passenger car showrooms, going with the finer materials is to be expected.
Appearance tweaks are numerous, coming from the Viano to the V-Class. The front fascia of the 2014 V-Class is modified and the back half isn't quite as boxy as the Viano. Of course, the R-Class definitely looks way sleeker and really has that SUV sort of look going for it compared to this new design. However, because sales of the full-size MPV has not really met the expectations of the company, R-Class production was discontinued in 2012 for the US.
At the moment, engine configurations are not yet final. We do expect more word on that front sooner rather than later, so count on us to deliver you the info once it becomes available.
[Images via WorldCarFans]