Ryan Joseph Ramos
July 20, 2013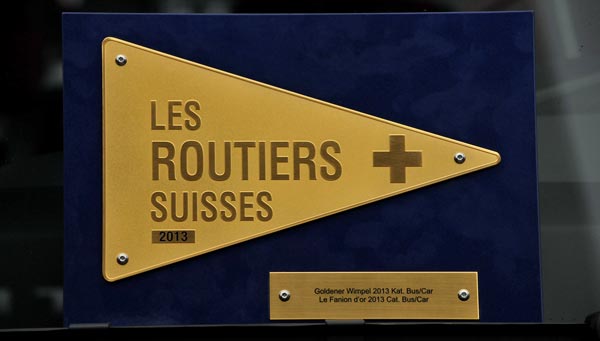 Setra, the Neu-Ulm-based commercial bus and touring coach manufacturer and Daimler subsidiary, has topped its category in the Swiss Camion magazine's reader survey. For that, it receives the 'Golden Pennant' distinction.
Swiss Camion, which is published in German as well as in French, has an estimated monthly circulation of around 20,000 copies. It is the designated publication for the Enchandens-based "Les Routiers Suisses," a professional organization.
The association relaunched the reader survey, with Swiss Camion as the medium. In the bus and coach category, and out of the 736 votes cast, 36 percent voted for Setra. The next closest competitor could muster no more than 13 percent.
Incidentally, the last time the reader survey was held in 2005, Setra also managed to win the category by getting 31.2 percent of the votes.
Dietmar Widera, who is the head of sales for Setra at EvoBus Schweiz AG, was on hand to receive the 'Golden Pennant' award from Swiss Camion. Widera noted that the award coincides with Setra's 60th anniversary in Switzerland.
Widera added that the wins this year and in 2005 affirm the brand's commitment to quality, reliability, and customer service, among other aspects of the business.