Ryan Joseph Ramos
July 4, 2013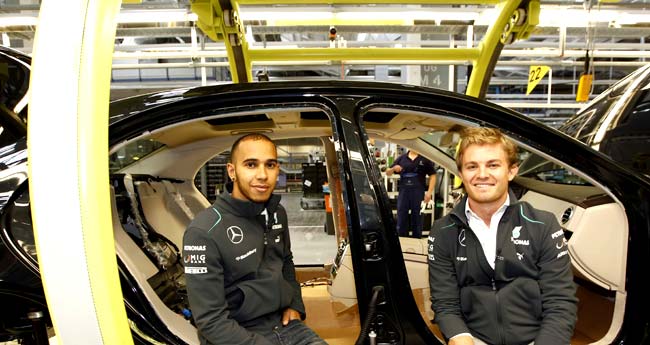 It's almost time for German Grand Prix weekend, but before that, the Mercedes AMG Petronas F1 team drivers geared up for a visit to the automaker's Sindelfingen factory. Lewis Hamilton and recent race-winner Nico Rosberg went with Motorsport chief Toto Wolff to the facility located near Stuttgart on Wednesday.
Hamilton, Rosberg, and Wolff were taken on an assembly line tour by Works Manager Willi Reiss. They went to look at the S-Class assembly line, which just started this year at this particular facility. The drivers had a chance to fit some wheels onto an S-Class.
Hamilton said that it was a 'new experience' and expressed how glad he was that they had a team to help change tires during races because they were surely faster. Rosberg talked about his interest in technology, and how these Mercedes-Benz facility trips allows him to get inside access to the production process.
After that, two customers got a big surprise when the F1 drivers were the ones to present their new cars. They handed the key off to each customer.
They also toured the Design Department to see what the future holds for Mercedes-Benz vehicles. There was also a Q&A session with the employees at the facility.