Giancarlo Perlas
February 7, 2013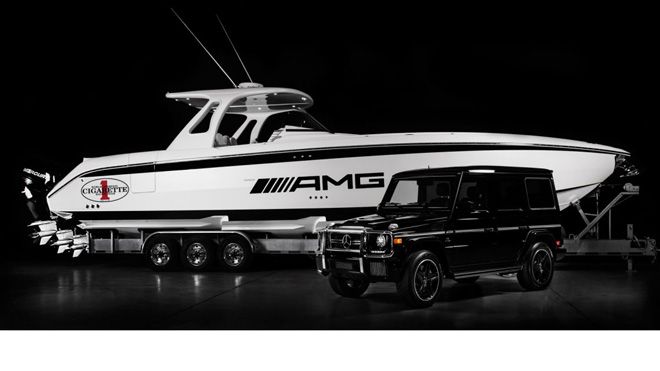 While I was looking for some news that I can share with all the Mercedes-Benz fans out there, I stumbled upon the Auto section of the Fox News website. Of course, I was expecting to see cars, cars and more cars.
But what did I get?
Their current top headline in that section is about the new Huntress.
Okay, the Huntress is not a car. It is actually a 42-foot performance boat developed by Cigarette Racing which is a Florida-based custom boat builder.
Now, you are probably wondering why this news is in a Mercedes-Benz site.
Well, the reason why it is a newsworthy topic here is because the style and performance of the Huntress are actually inspired by the 2013 G63 AMG.
Cigarette Racing equipped the luxury boat with a design oozing with flair and accents that truly defines its style much like the armor of the land vehicle where it was based.
Then for its performance, its five supercharged 350SCi outboard motors from Mercury Racing Verado is packed with 1,750 HP that lets it reach a speed up to 78 mph. The boat's fuel storage is also remarkable because it can carry up to 500 gallons of fuel. This means it is capable of covering long distances with a full tank.
The performance of the Huntress can be likened with the twin-turbocharged  5.5-liter V8 engine of the G63 that packs an enormous 544 HP. This enables the vehicle to easily launch itself up to a speed of 130 mph.
So far, no announcements were made about the cost of the luxury boat. According to Cigarette Racing, more information will be revealed when the AMG-inspired boat makes its debut on February 14, 2013 in the Miami International Boat Show.