Ryan Joseph Ramos
December 8, 2012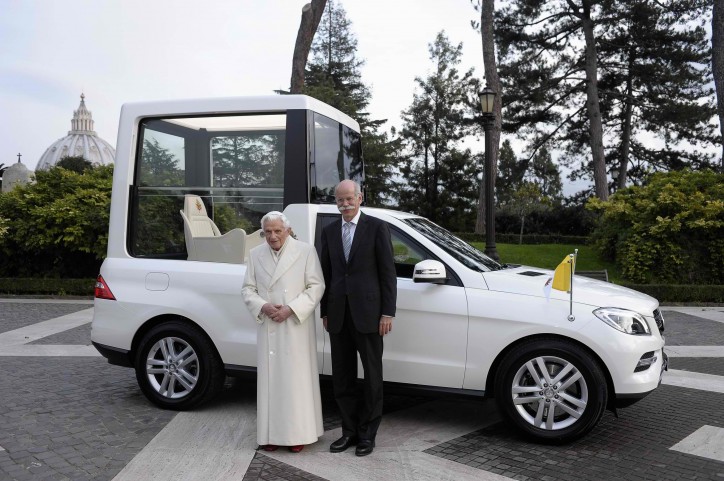 The new specially-made Popemobile was delivered recently in Rome, straight to Pope Benedict XVI himself. On hand was Daimler AG chairman and Mercedes-Benz Cars Head, Dr. Dieter Zetsche, to personally deliver the special vehicle to the head of the Catholic Church at the Vatican.
"It is an honour for Mercedes-Benz to be accompanying His Holiness Pope Benedict XVI on his future journeys with our new Popemobile," Zetsche said. "As such, we are continuing our long-standing partnership with the Vatican. For more than 80 years now, Popes have been able to rely on the quality, safety and comfort of our Mercedes-Benz vehicles."
As far as safety goes, the special-purpose body of the Popemobile is designed to ensure the personal safety of such a prominent figure. After all, the Popemobile is the one the Pope rides for his special public appearances. In fact, the delivery was in time for a public appearance just last December 8.
Aside from safety, the vehicle was also made to guarantee the best possible level of comfort for the Pope. With a freshly designed interior that features an extended dome, there's a lot of space inside for the Pope and it also makes sure that he gets in and out of the vehicle with ease. Larger glass panels allow for a maximized view of the Pope so the public can get as close without sacrificing security.
The vehicle, which is a modified M-Class, comes with a 'diamond white' paint job and has a reduced height. Mercedes-Benz has been working on the vehicle for some 9 months prior to delivery.