Ryan Joseph Ramos
October 15, 2012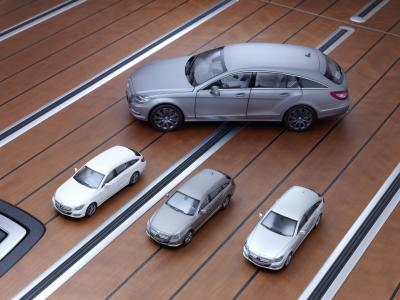 With the Mercedes-Benz CLS Shooting Brake recently being available for prospective buyers to purchase at dealerships, the manufacturer is also set to make the car available to miniature model collectors. Mercedes-Benz is set to unleash a set of model cars sometime around the tail-end of this month, in 1:18 as well as 1:43 scale, and these miniature Shooting Brake copies will be available from the Mercedes online shop (https://shop.mercedes-benz.com) and from the automaker's sales partners.
These scale models of the popular CLS Shooting Brake was designed with the help of model car specialist Norev. The models were first laid out with the vehicle's original CAD data, so they are all accurate depictions of the actual car. In addition, the models use the same paints used on the actual CLS Shooting Brake and are hand-assembled as well.
Expect a ton of details for the 25.5-centimeter 1:18 models that enhance the experience. For one, you can open different parts, such as the boot, doors, and the bonnet. You can marvel at the intricate interior detailing that went into each model in order to reflect the interior furnishings of the actual car. Exterior detailing includes LED headlights, Intelligent Light System fittings, and multi-spoke alloy wheels. There are over 115 individual parts in all.
The 1:43 scale models, on the other hand, comes with over 53 individual parts and those looking to collect them can choose from diamond white metallicBRIGHT, manganite grey SHAPE, and iridium silver—the original paint colors. LED headlights, ILS, and multi-spoke aluminum wheels complete the accessory detailing on the exterior of the scale model, which also comes with a printed base.
The 1:18 models are available for an SRP (in Germany) of 69.90 euros (around $90), while the smaller 1:45 models have an SRP of 29.90 euros (a shade under $39).