Ryan Joseph Ramos
July 19, 2012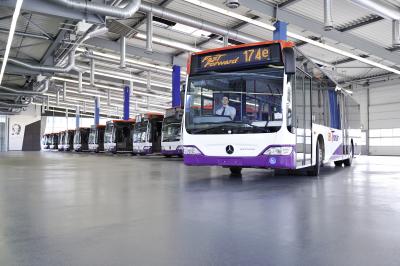 Singapore city bus operator SBS Transit just placed a massive order for 450 units of the Mercedes-Benz Citaro bus, easily standing as the biggest batch order in Asia for this series.
This is actually the second wave of Citaro orders from the city-state bus operator. In April of 2011, SBS already purchased 300 units—and the order is set to be completed by Daimler Buses very soon. The new batch of orders will start delivery by fall of 2012 and is scheduled to be completed by late 2015.
The Citaro units, from the first batch that's currently in use to the additional 450, are all compliant with Euro V emissions standards. They are slated to be produced at the automaker's Mannheim EvoBus plant.
It's no surprise that SBS Transit, one half of the public transport duopoly in Singapore, is going for the Citaro again. Not only is it elegant, comfortable, and engineered well, it's also environment-friendly. The new Citaro is dubbed the cleanest diesel-powered regular-service bus today. That has helped the bus series become the all-time most successful, with sales figures of 33,000 units in a span of 13 years.
The new Citaro buses should be a welcome addition to the over-3000-strong bus fleet of SBS Transit.