Ryan Joseph Ramos
July 18, 2012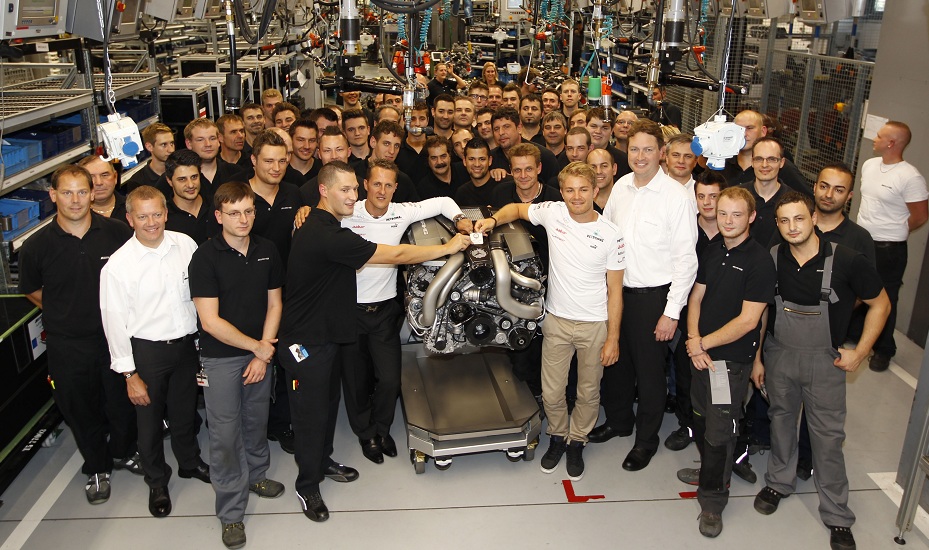 It's certain to be a busy weekend for Mercedes AMG Petronas GP drivers Michael Schumacher and Nico Rosberg, but they still managed to take the time to tour a couple of facilities near the Mercedes-Benz HQ in Stuttgart, Germany right before the 2012 German Grand Prix.
The drivers' day started off at the Rastatt plant, where the first of the new A-Class has just rolled out, and they then proceeded to Affalterbach to try and experience assembling some engine components at AMG's main facility.
Rastatt is set to celebrate 20 years of service. Both drivers entered their names into Rastatt's Golden Book and even personally delivered a couple of new B-Class units to two thrilled customers. In addition, the drivers had an open Q&A with some of their Mercedes-Benz colleagues, some of which got the chance to ride a couple of SLS AMG vehicles at the facility's test track.
"You can never fail to be amazed when you get a chance to see behind the scenes of a facility like Rastatt," Schumacher said.
"As a works Silver Arrow driver, it's always a great feeling to visit our colleagues in the rest of the company—it's not only a boost ahead of our home Grand Prix, but also reminds me that we carry their hopes and represent them every time we take to the track," said Rosberg. "That's a big responsibility – and we want to make sure we do them proud this weekend in Hockenheim."
Up next for the drivers' busy week is the German FOTA Fan Forum in Stuttgart, where both Mercedes AMG drivers will be joined by other German drivers in F1 such as Nico Hulkenberg and Timo Glock.