Muamer Hodzic
June 9, 2008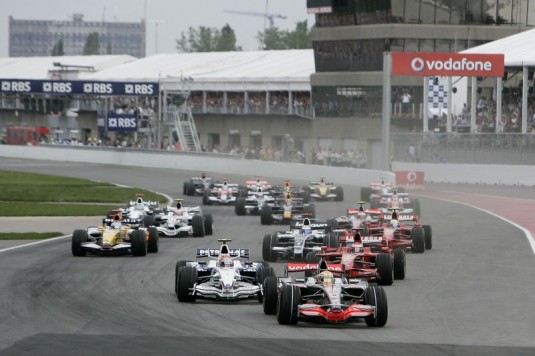 A careless and stupid mistake from Lewis Hamilton caused him to retire in the 20th lap of the race, after hitting Kimi Rà¤ikkà¶nen's Ferrari at the pit lane exit who had stopped for a red light. Heikki Kovalainen finished the Canadian Grand Prix in Montreal in ninth place. After 70 laps, Heikki took the chequered flag 54.4sec behind winner Robert Kubica.
After the seventh of 18 Grands Prix, Lewis is second in the drivers' ranking, tied with Felipe Massa (Ferrari) on 38 points; Kubica leads with 42 points. Heikki is sixth overall with 15 points. In the Constructors' Championship, Vodafone McLaren Mercedes is third with 53 points; Ferrari leads with 73 points.
The start: In his 24th Grand Prix, Lewis started from pole position for the eighth time in his F1 career; Heikki had qualified seventh. Lewis accelerated into an immediate lead and finished the opening lap in first position whilst Heikki was seventh.
The race, lap 10: Lewis put in a couple of fastest laps in the opening stage and was five seconds ahead of Robert Kubica (BMW Sauber) and nine seconds ahead of Kimi Rà¤ikkà¶nen (Ferrari).
Lap 13: Heikki held off charging Nick Heidfeld (BMW Sauber).
Lap 17: The Safety Car was deployed after Adrian Sutil (Force India Ferrari) had retired at a bad spot.
Lap 19: Lewis and Heikki made their respective first pit stop during the Safety Car period; Lewis was stationary for 9.9sec and Heikki for 10sec. When Lewis wanted to exit the pit lane, he hit the Ferrari of Kimi Rà¤ikkà¶nen who had stopped at the red light.
Lap 21: Re-start. Heikki was 13th.
Lap 42: Heikki was sixth after all drivers had pitted at least once.
Lap 52: Heikki outbraked Rubens Barrichello (Honda) at the hairpin and hit the dirty part of the track, therefore Felipe Massa (Ferrari) was able to overtake; Heikki was now fifth.
Lap 53: Heikki came in for his second pit stop (6.4sec) and resumed in 10th place.
Lap 60: Heikki overtook Nico Rosberg (Williams Toyota) on the front straight and took ninth place.
Finish (lap 70): Heikki came home ninth. For the pit lane incident, Lewis was penalised by the stewards: In the next Grand Prix in Magny-Cours in two weeks, he will be relegated on the grid by 10 positions.
Comments
Heikki Kovalainen
"Today wasn't a great day for me. At the start of the race I felt we had the potential to record a very good result – but then I started to experience quite a lot of graining on my first set of tyres. Changing tyres didn't seem to help matters, and I was never therefore able to push hard to the finish. It's always difficult when you come home empty-handed, but this weekend has shown that we have a package that can compete for a win – and I'll keep pushing for exactly that in Magny-Cours."
Lewis Hamilton
"Before my pit stop, everything looked on course for the perfect result: we were so quick, we were breezing it in fact. But it wasn't a great pit stop – and, as I exited the box, I saw two cars jostling for position ahead of me in the pit lane. Obviously, I didn't want to get involved in their tussle, and was trying not to do so, and then all of a sudden they stopped. And by the time they'd come to a halt, it was too late for me to avoid them. It's just unfortunate when stuff like this happens, but I have no argument with the stewards. We'd looked so strong for the whole weekend though, so at least we can leave Montreal confident that we have a package that will enable us to fight for the World Championship from here on in."
Ron Dennis
"Obviously, for a team that exists to win, today was a very disappointing day. But the fact is that we had the pace and therefore the capability to win, which is of course encouraging. The collision that eliminated Lewis was just one of those things. No racing driver would deliberately put himself out of a Grand Prix, and the plain fact is that Lewis didn't realise that the cars in front of him were coming to a halt until too late. It's difficult for a driver to decide whether to focus on the lights or on the cars ahead in situations like that. Having said that, we accept the stewards' decision. Heikki had a difficult weekend, too. But, together as a team, we'll build on the disappointment of Canada 2008."
Norbert Haug
"A race to quickly forget. Lewis held a comfortable lead and controlled the field until the 20th lap and had the best chance of winning, when his accident at the pit lane exit destroyed them. We now concentrate on the next race, Lewis is just four points behind the leader in the World Championship. Congratulations to BMW on their 1-2 victory – well done!"