Muamer Hodzic
April 28, 2008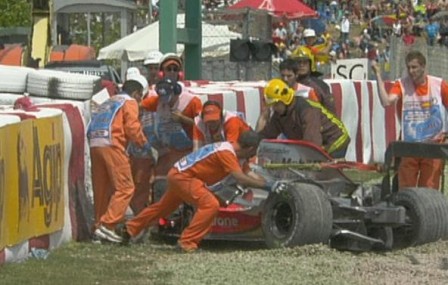 Following his accident yesterday during the 2008 Spanish Grand Prix, Vodafone McLaren Mercedes driver Heikki Kovalainen was taken to the Hospital General de Catalunya in Sant Cugat del Valles in Spain.
The team has established that Heikki's speed was approximately 240km/h when the tyre deflated and about 130km/h when he hit the tyre barrier. He experienced a 27g deceleration.
CT scans at the hospital confirmed that Heikki had no head injuries and no broken bones but the Finn was kept in overnight for observation.
This morning Heikki underwent further tests and scans which all went positively and showed no problems. Consequently Heikki will be released from hospital later today. He will then stay in Spain for a few days relaxing before returning home to start a light training programme.
Read the Interview with Keikki
How do you feel at the moment?
"I have a slight headache and a stiff neck, but apart from that I am feeling well and in good spirits. My focus is on getting better as soon as possible so I can pass the FIA medical inspection required to allow me to race in Turkey."
Do you remember anything from the accident?
"I don't remember anything from the accident or what happened afterwards but would obviously like to thank all the circuit emergency staff, the FIA medical team at the track and the doctors at the hospital for all their efforts in looking after me. Also thank you for all the messages I have received – they all mean a lot."
What do you think might have caused the accident?
"The team told me that the left front wheel rim might have broken which could have lead to the sudden deflation of the tyre. However we have to wait for further inspections to be able to confirm the exact cause. What is especially important is the fact that the monocoque withstood the heavy impact, so credit should also be given to everyone at Vodafone McLaren Mercedes for that."