Giancarlo Perlas
July 27, 2023
Variants of the next-generation 2024 Mercedes-Benz E-Class Wagon were recently spied making their rounds at the Nürburgring circuit. The uncamouflaged cars were seen cruising the challenging tracks as automotive engineers pushed them to their limits.
Varying Suspensions
A remarkable aspect of the spy video from Car Spy Media is the two different suspension setups employed in the E-Class Wagons. The white wagon, with its visibly more rigid suspension, displayed minimal body motion and emitted a subdued four-cylinder sound. Contrary to expectations, this wasn't indicative of an AMG product.
In contrast, the silver wagon brought an adrenaline rush with its more agile movements. Though softer than its white counterpart, the silver wagon's suspension calibration and tire choice hinted at potential track-ready capabilities.
Nürburgring Remains an Unforgiving Testing Ground
The Nürburgring's allure lies in its reputation as a demanding and technical track, notorious for subjecting cars to rough and bumpy conditions. Automakers reserve this legendary circuit for industry sessions to test their new creations thoroughly.
The unforgiving terrain allowed Mercedes engineers to refine handling while maintaining a comfortable ride for drivers and passengers alike.
A Glimpse of the Future E-Class Wagon
While the sedan variant of the next-generation E-Class has already been unveiled, the specifics of its wagon variant remain under wraps. These two test cars gave us a sneak peek into the wagon's potential suspension setups and design, sparking curiosity about what lies ahead for this iconic family-oriented model.
Uncertain Future of the Mercedes E-Class Wagon for the US Market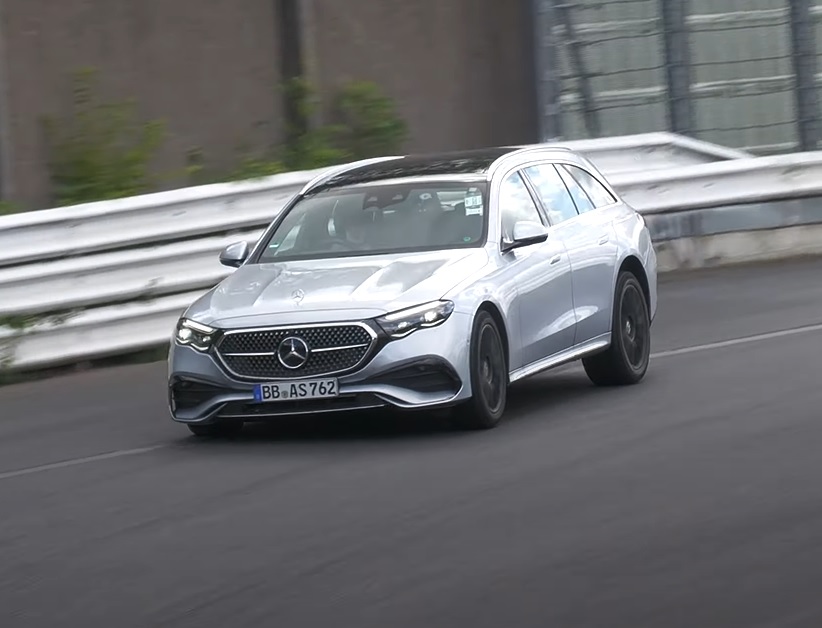 There remains uncertainty as to whether or not the E-Class Wagon in its All-Terrain guise will make a return to the US market for this new generation. Nevertheless, the fact that these wagons underwent testing at the famed circuit speaks volumes about Mercedes' commitment to pushing boundaries and delivering top-notch performance for all of its product offerings.