Ryan Joseph Ramos
April 8, 2015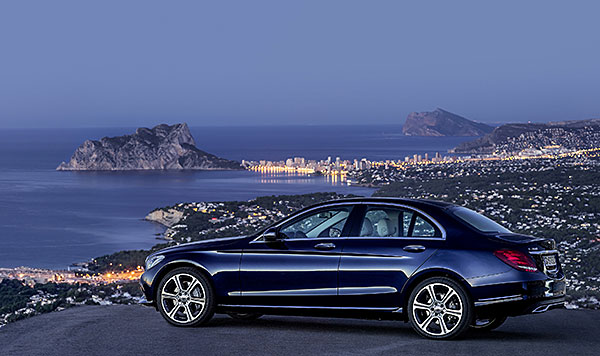 The C-Class continues to be one of Mercedes-Benz's main vehicle lines in terms of the automaker's global strategy, and as such, the company is giving the lineup a boost by way of five new models, including a new entry-level variant, a couple of four-wheel drive units, a new 4-cylinder model, and the powerful C 450 AMG 4MATIC.
The C 160 Saloon arrives as the newest entry-level option for the budget-conscious buyer. It debuts at around 2,000 euros less than its predecessor, the C 180 Saloon. It comes with a 129 hp four-cylinder engine that has up to 210 Nm of trque. It goes from zero to 100 in 9.6 seconds (Estate variant takes 9.9 seconds to get the same acceleration).
The C 160 Saloon's starting price is 31,683.75 euros (roughly $34,420). In addition, rate of CO2 emissions is pegged at 120 grams per km and can run over 100 kilometers with just 5.2 litres of premium fuel.
Up next are the C 200 4MATIC and the C 220 d 4MATIC models that feature four-wheel drive systems. The C 200 4MATIC starts at just 41,441.75 euros, which should make it a model to be considered for those in the market for a premium vehicle that has 4WD.
Then we have the new C 300 (pictured above), powered by a 245 hp four-cylinder engine that lets it go from zero to 100 km/h in just 5.9 seconds for the Saloon variant. Its consumption is rated at 6.3 litres for 100 kilometers.
The most premium and most powerful among the C-Class additions is the C 450 AMG 4MATIC under the new AMG Sport label, with its 367 hp engine that has up to 520 Nm of torque. A couple of AMG models also just became available at retailers: the Mercedes-AMG C 63 and the C 63 S.
The new models will all have Saloon and Estate options, and come with the C-Class's  trademark suite of space, safety features, fuel-efficient engines, and what the company bills as the lightest body shell in its segment.
Apart from the introduction of these new models, Mercedes-Benz will also make available enhanced equipment options as add-ons.