Giancarlo Perlas
January 31, 2015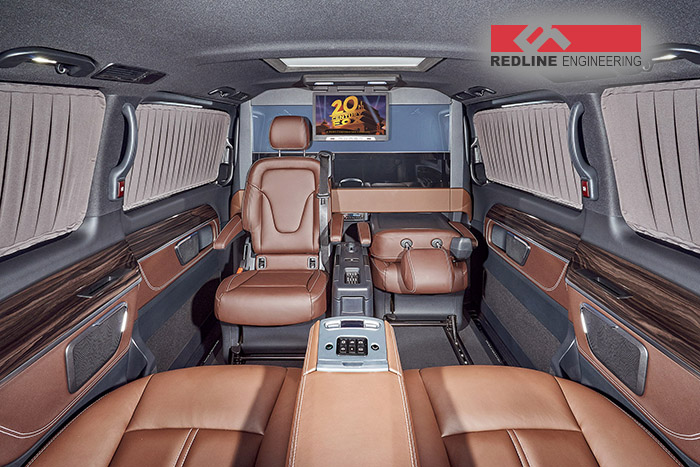 Russian tuning studio Redline Engineering recently released shots of its amazing work with the interior of the Mercedes-Benz Viano. The work of the tuner involves various themes to cater to the different preferences of its customers.
Disguised under the shell of a Mercedes-Benz Viano with a Hartmann exterior kit is the Portable Office of Redline Engineering. The interior from Redline grants a lot of amenities for the passengers of the Viano. It includes a flat-screen monitor, reclining seats from BMW 7-Series F01, Playstation console, high-speed Internet access, digital TV-tuner with sub-antenna, wine rack, mini-bar, office desk, wide bright roof lights, touchscreen tablets, movie player, electronic curtains, high-end sound system, small safe, power outlets, and a lot more depending on the cash you are willing to dish out.
The V-Class may not have the same level of luxury offered by the other Mercedes core series. However, if you are looking for absolute level of comfort during long journeys and frequent travels with heavy traffic jams, this masterpiece of Redline will let you relax as your chauffeur drives you to your destination. The cabin provided by the company is also ideal as an activity area for your colleagues, or a way to keep the kids busy so they will stop asking you the "Are we there yet?" killer question repeatedly during long trips.
Photos of the Mercedes-Benz Viano with Redline Engineering Interior
Check out the photos in gallery below to see the various interior designs offered by Redline to the Mercedes V-Class: