Giancarlo Perlas
September 13, 2014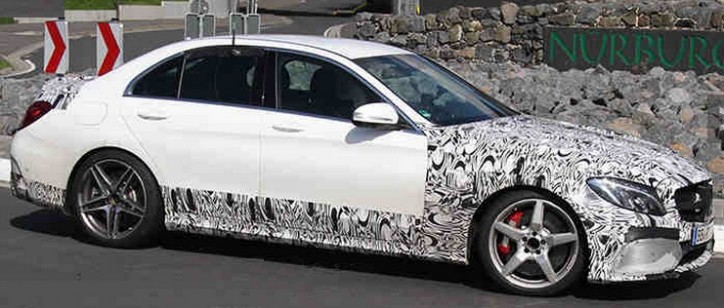 A version of a Mercedes-Benz C-Class was recently captured in camera while cruising outside Nurburgring. The car was covered in camouflage, which indicated it might be the C63 AMG version since there is no point anyway for Mercedes to hide the exterior of an already existing C-Class model.
Another giveaway that the subject might be the Mercedes-Benz C63 AMG were the camouflaged patterns covering the side skirts, rear spoiler, diffuser, front bumper, and hood. The covers meant the areas received significant upgrades.
There were no photos showing the interior of the car though. So, what's inside its cabin remains everyone's guess as of the moment.
According to several sources online, the C63 might get the same 4.0-liter biturbo V8 engine powering the newly-launched Mercedes-AMG GT. So, its output should be somewhere close to the ones offered by the AMG GT, which is along the 456 hp and 503 hp ranges. Despite the same engine, the Mercedes-Benz C63 AMG will not be able to possibly outperform the pure sports car because its body packs an extra weight compared to the AMG GT.
Based from a report from UK's Car magazine, among the things present in the AMG GT that might benefit the Mercedes-Benz C63 AMG are the adaptive suspension package and the optional Dynamic Plus package. These elements might be able to push the car from zero to 62 mph in approximately 4 seconds, and its top speed should be around 155 mph. However, these figures might be improved further with the inclusion of the AMG Performance Pack.
The power of the Mercedes C63 AMG would likely come from the rear wheels and distributed through a seven-speed AMG paddle-shift automatic gearbox. A 4MATIC four-wheel drive variant might also be introduced later.