Ryan Joseph Ramos
June 24, 2013

Eugen Böhringer, one of the most successful drivers at the helm of a Mercedes-Benz in the 1960s, passed away last June 19 in Stuttgart. The rally legend, who took the 1962 European rally title, was 91.
Klaus Kaiser, one-time rally partner of Böhringer, commented that the rally driver "always gave his best," during the 1992 celebration of the man's 70th birthday. This was a testament to Böhringer's great skill in taking heavy saloon vehicles of that time period through the most grueling and difficult rally routes.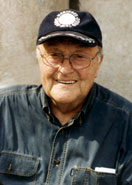 His wins included the 1962 Acropolis Rally and the Liège–Sofia–Liège Rally (in a Mercedes-Benz 300 SE W 112), and then in 1963 he pilotted the then-new 230 SL (W 113) "Pagoda" to a win at the 1963 Spa–Sofia–Liège Rally.
What's interesting about all that is that Böhringer actually started off as a chef and was running a hotel owned by his family. Like many others then, he was driving as a private individual during all those long-distance races and rallies.
Mercedes-Benz says that it will continue to keep Böhringer's memory alive as well as to commemorate his achievements. Visit this link for a more detailed account of the rally legend's life.